YARAT Contemporary Art Space presents exhibitions 300 Words on Resistance and Little Lies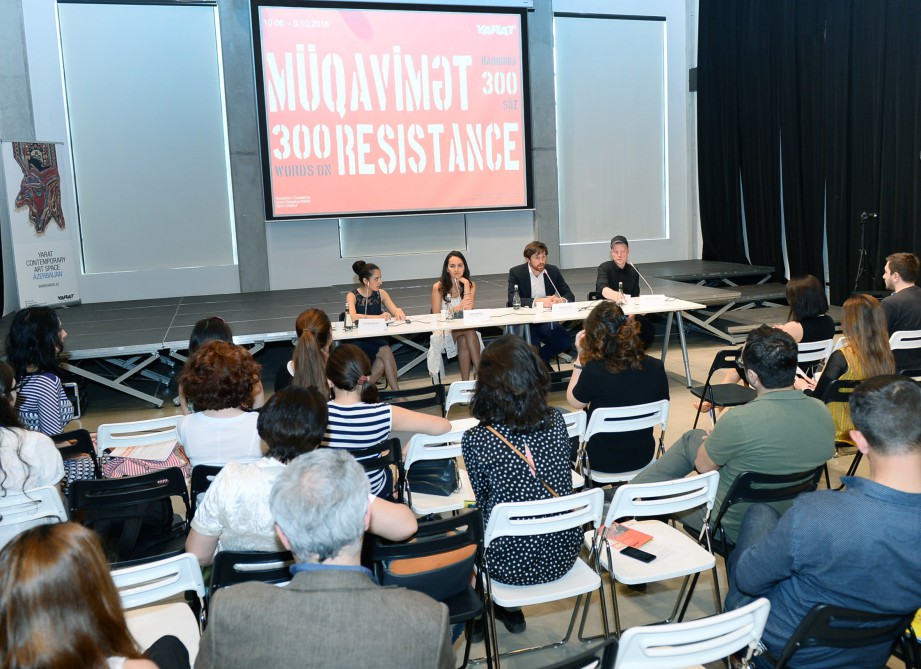 YARAT Contemporary Art Space presents 300 Words on Resistance – a group exhibition including 7 emerging Azerbaijani artists: Farhad Farzaliyev, Ilkin Huseynov, Sitara Ibrahimova, Aida Mahmudova, Elturan Mammadov, Habib Saher, Zamir Suleymanov and 7 modern masters: Eldar Aghamalov, Anvar Asgarov, Rasim Babayev, Boyukagha Mirzazade, Tahir Salahov, Togrul Narimanbekov and Talat Shikhaliyev, Azertac reported.
300 Words on Resistance draws from the belief that resistance is both personal and political. It is an essential social attitude in building civil society. Seven emerging Azerbaijani artists explore their perspective on resistance, introducing themes pre-occupying the youth of the country, such as gender relations, cultural stereotypes and socio-political uncertainty. The newly commissioned works explore both general and individual struggles facing the Azeri society today. These artists carry the voices of their generation, through times of economic turbulence and geo-political unrest, into the new century of capitalism and social awareness.
Throughout the exhibition, the new works are marked by and put into conversation with older works of the generation of artists from the 60s. The modern works, many of which have never been exhibited before, defined resistance during the Soviet era by going against the mainstream of Socialist-Realism and subverting propaganda art. These modern masters continue to act as a solid foundation and a source of inspiration for the younger generation of artists throughout the country.
Sitara Ibrahimova and Farhad Farzaliyev subvert the prevalent gender specific stereotypes through irony and humour in their video works, Reflector (2016) and What a Nice Place to Eat and Drink (2016). A similar urge to break free is expressed in a Non-Conformist painting by Talat Shihaliyev, Portrait of a Young Man (1961). These works are opposed by the seeming stillness of Tahir Salahov's Homage to the Mothers (1986). The passing of time in this work continues in Habib Saher's Waiting for Godot (2016), evoking a slow decay of traditional worldviews through art historical references.
Resistance takes a phenomenological turn in Aida Mahmudova's Untitled (2016). Her new work made predominantly with gauze fabric, is a material expression of a personal struggle, which is shared with the viewer through its out of scale presence in the space. The sheer physicality of the installation finds its historical counterpart in the Expressionist work of Rasim Babayev, The Earth is Rich with Oil (1976).
The idea of a private mental space breaking through into a public political realm manifests itself in the painting of Anvar Asgarov, To those Disappearing on the horizon (1985). The relation to public space finds contemporary commentary in the photographic works of Ilkin Huseynov, We Apologise for Temporary Inconvenience (2016), reflecting on the superficial façade of a city and society in continuous transition. The identity shifts evident in the architecture of Baku are mirrored in an ideological struggle explored in the work of Zamir Suleymanov, Claim (2016).
As an end point of the exhibition, an unidentified black mountain marks a conflict that has defined the political reality of Azerbaijan as a nation-state since its independence in 1991. Further supported by a randomly generated top 20 playlist from Nagorno-Karabakh, Elturan Mammadov's Unidentified Heights (2016) are controversially juxtaposed with a call for peace in Boyukagha Mirzazade's 1945 (1976). This modern masterpiece suggests a timeless form of resistance – "НЕТ".
Another exhibition Little Lies is a journey through a network of white lies, disillusionment and fabricated histories. The exhibition confronts the two main political narratives of the 20th century, with the deception in everyday images, constructed personal stories and false metaphors. Little Lies belong to our everyday; they establish our understanding of a socio-political reality and influence our historical awareness. Through a selection of works of the two artists the exhibition considers the boundaries of our physical reality and how its representation can highlight social ambiguities.
This exhibition is a conversation of six works, three of which are continuously looped. Breathing Bird (2012), by David Claerbout, is a poetic and treacherous image that misleads and confuses the viewer. Its small scale is opposed to the monumentality of Oil Workers (from the Shell company of Nigeria) returning home from work, caught in torrential rain (2013). This work subjects the viewer to a soulless gaze, trapped in a constructed mise-en-scène. It questions an economic reality based largely on oil and its social impact on a population in-wait. The lifelessness of the Oil Workers is opposed by effortless vitality in In This Very Moment (Antoine) (2014), by Soren Thilo Funder. Here a young boy obliviously dances on rollerblades on a field in Verdun, a place known as a brutal battlefield of WWI. These works raise a political awareness, while evoking the endlessness and inescapability of time and memory.
Sequentially presented throughout the space, the three other works evoke a sense of history through make-belief. The works of Soren Thilo Funder employ cinematic tricks to suggest historical narratives. The Cosmonaut (I don't see any God up here) (2013) uses signifiers from the collective imaginary and deliberately subverts them through false constructions. The same tactics are further complicated in Swerve (You're Gonna Die Up There) (2016) by adding an element of popular associations, through the history of cinema, while exposing the technical mechanisms behind his own storytelling. Funder's works thereby force the viewer to recognise the white lies, which are continuously denied in favour of constructed images and stories.
Opposed to Funder, in Travel-1996-2013, David Claerbout allows the illusion to further expand and engulf the viewer. Made over a period of ten years, the work is a digital construction of an ever deepening and elusive forest. The full submersion of the senses is violently broken down as the camera pans out to reveal a plain sub-urban landscape. It voices a critique of a singular perspective, manifested through the inevitability of betrayal.
Little Lies enchants and disappoints. It draws from our need for confirmation and exposes our human vulnerability. In a society of false constructs it calls out to our senses and urges us to recognize the white lies embedded in our daily reality.
The exhibitions will be on view until October 9.
---
Follow us on Twitter @AzerNewsAz