25 February 2015 15:39 (UTC+04:00)
1 168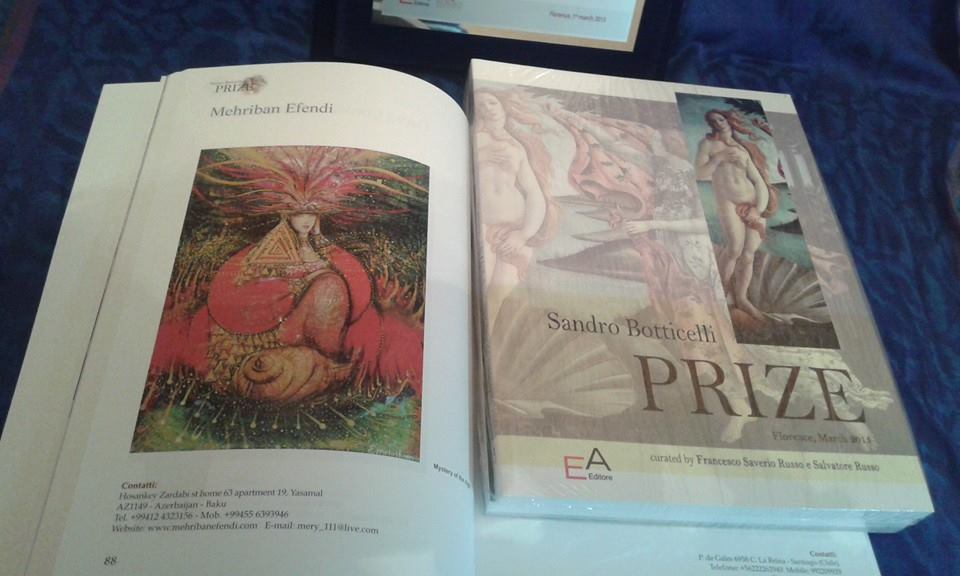 By Amina Nazarli
The famous Italian magazine called "Effetto Arte" in its January issue published an article regarding to the creativity of famous Azerbaijan artist- surrealist Mehriban Efendi.
The article gives information about Mehriban's achievements. It says in 2014 Mehriban was awarded with prestigious Italian prize called Sandro Botticelli "For Art and Talent", which is handed by Salvatore Russo Foundation for her activities in recent years.
The awarding ceremony will take place at the house-museum of Dante Alighieri in Florence on March 1, on the birthday of Sandro Botticelli.
The article also says that the works of talented artist have been featured in the exhibitions of contemporary art at the Louvre and the Eiffel Tower.
Her painting is relevant today. It is supposed to hunt the minds of our time, sweeping away stereotypes and foundations of ossified consciousness.
Her paintings always leave a pleasant impression on human. They are true, because the artist is able to accurately portray the state of her active and hungry to the openings mind because she creates images that are close and understandable to us - viewers, through which we can open ourselves.
Earlier, Mehriban Efendi's works were put on display at the Art of the World gallery in Muskegon city in U.S., and the artist received an invitation for a long-term collaboration with the gallery.
The first solo exhibition of Efendi was held in the United States in 2005. Then she participated in the exhibition "Art and Awareness" in Montana; a few of her works were further displayed at the huge electronic billboards "Art Takes Times Square" on Time Square in New York.
The work "Harmony" presented at this exhibition was published in the book "Art Takes Time Square". It was recognized as one of the best works across the world in 2012.
In 2003, Efendi took part in an international exhibition organized by Australian artist Paris Saint-Martin, becoming one of the top ten computer artists. Meanwhile, in 2009, the artist's work was presented at an international exhibition in the Netherlands. In 2010, Efendi was selected as one of the 56 best surrealist painters in the world.
Related News