2 July 2014 17:45 (UTC+04:00)
784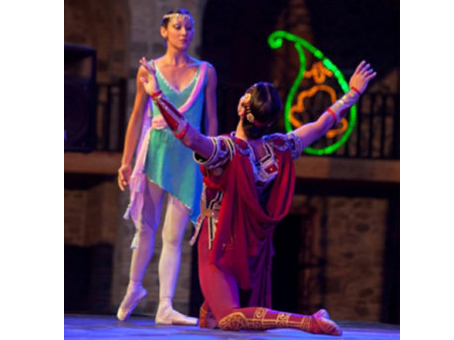 By Nigar Orujova
The fifth international Music Festival "Silk Road" kicked off in the northern city of Shaki on July 1.
Opening the event, Chief Executive of Shaki Elkhan Usubov and Artistic Director of the festival, Chairman of Azerbaijan Composers Union, Professor Firangiz Alizadeh said that the concert programs to be presented during the traditional festival would remain as a pleasant memory in the minds of the audience and would create a mood of festive.
The festival, a great event in the cultural life of the city, will be run until July 5.
This year, the colorful festival was opened with a ballet based on a piece from the symphonic Mugham "Rast" by famous Azerbaijani composer Niyazi performed by soloist of the Azerbaijan State Academic Opera and Ballet Theatre.
Choreographer of the ballet is People's Artist of Azerbaijan Tamilla Shiraliyeva, its Art Director is People's Artist of Azerbaijan and state prize owner Rafis Ismayilov.
The part of Tomris was performed by People's Artist, winner of "Qızıl Dervish" and "Zirve" prizes Camilla Huseynova and Anar Mikayilov performed Shah's part. People's artist Gyulagasi Mirzoyev and honored actress Elena Skomoroschenko also took part in the ballet.
The festival program includes performances of the soloists of Azerbaijan State Academic Opera and Ballet Theatre, Istanbul ensemble "Modern folk Muzic", Indian group "Nrityarupa", Azerbaijan ensemble of ancient musical instruments, Baku Marionette Theatre, Chinese song and Dance Ensemble.
The program of the festival will also include a fashion show of national costumes of 11 Turkic-speaking countries and special musical performances organized by the International Organization of Turkic Culture TURKSOY.
Moreover, the festival will witness an exhibition of the artists from Turkic-speaking countries.
For the first time, the festival will be attended by guests from Northern Cyprus, Macedonia and Montenegro.
Art groups from India and China will give their theatrical performances of the national traditional arts for Shaki residents and guests of the festival. The performances will include dances, singing, playing on the national instruments, choral music, as well as exotic national costumes and ancient rites.
The final day of the festival will feature the gala concert of Russian Symphony Orchestra "Hermitage" from St. Petersburg.
As part of the festival, a concert of the winners and participants of Eurovision song contest is also expected, which will definitely bring new emotions, colors and rhythms to the cultural event.
The "Silk Road" Festival in Shaki is a joint project by Azerbaijan's Composers Union and the executive power of Shaki. It is also supported by the Ministry of Culture and Tourism and the Foundation supporting the national heritage of Azerbaijan.