21 February 2014 14:02 (UTC+04:00)
2 122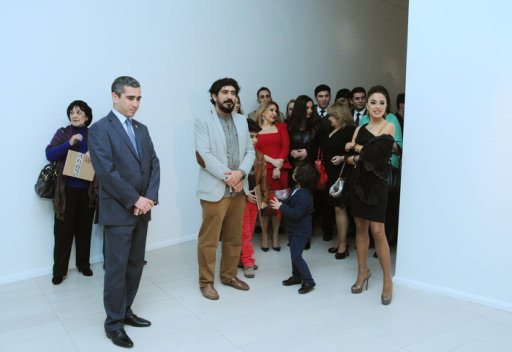 By Nazrin Gadimova
A solo exhibition of Azerbaijan's prominent artist Rashad Alakbarov opened in the Museum of Modern Art in Baku on February 20, 2014.
The opening ceremony of the exhibition titled "Words" was attended by Vice-President of the Heydar Aliyev Foundation Leyla Aliyeva, Principal of the Baku branch of Moscow State Lomonosov University, artistic director of the ÜNS creative scene Nargiz Pashayeva, Head of the Heydar Aliyev Cultural Center Anar Alakbarov, Head of the YARAT! Contemporary Art Organization, artist Aida Mahmudova, Azerbaijan's Culture Minister Abulfas Garayev, head of the department for humanitarian policy of the Azerbaijan Presidential Administration Fatma Abdullazade and others.
Addressing the event, artist Aida Mahmudova said Rashad is a conceptual artist who creates innovative installations which challenge the viewers' expectations by using incongruous objects to create shadows that resemble familiar scenes or patterns.
"Today we present the works of one of my favorite artists - Rashad Alakbarov. Rashad's works radiate his energy, his thoughts, which are scattered in our space and settle on the walls, like shadows."
Head of YARAT! said Rashad Alakbarov is one of the few artists who have golden hands, broad minds and deep souls.
"Everything is within his power - from painting to installations. And when I say everything, I don't exaggerate. His shadow dazzle, but I still ask to pay attention and explore sculptures themselves, since they contain the essence of the author's thoughts," Mahmudova said.
Aida Mahmudova noted that Rashad Alakbarov's works were exhibited in museums, galleries and exhibition halls in many countries.
"Rashad created various shadow installations, there were many interesting projects. We decided that in today's exhibition it will be better to represent his visually rich works in a simpler form. The main element of today's concept are the words," the head of YARAT! said.
Aida Mahmudova also noted the human qualities of the artist, saying Rashad is extremely modest, honest and insightful man.
"I'm glad that we have such a friend and colleague, as Rashad Alakbarov," she said.
Then, she thanked all those who contributed to organizing the exhibition, which displays five works by Rashad Alakbarov.
Being a graduate of Azerbaijan's State Academy of Fine Arts, where he was specialized in Decorative Arts, Rashad Alakbarov represented the country at the 52nd Venice Biennale in 2007.
His work "Lost in translation. This too shall pass" was featured in the Yarat pavilion during the "Love Me Love Me Not" show at the International Venice Biennale in 2013.
Rashad's latest work is a large-scale installation composed of metal elements that create an illusion of chaos and disorder when viewed from wrong angles. There is only one point from which the whole structure becomes meaningful and a key phrase "It is not a chaos" becomes readable. In this work, the artist reminds us that some things can only be understood if they are looked at from the other person's perspective.
His works are kept in museums and private collections in Germany, France, Italy, Switzerland, Poland, Austria, Turkey, and the UAE.
Currently, his new work is being featured at the 11th Biennial East Wing Exhibition, which is underway at the London-based Courtauld Institute of Art London. During the exhibition, the artists and the audience will play a special role: some artists will professionally fulfill their predefined roles by inviting viewers to interact with their works, while others will ask different questions related to the works.
Related News