22 January 2014 19:30 (UTC+04:00)
1 768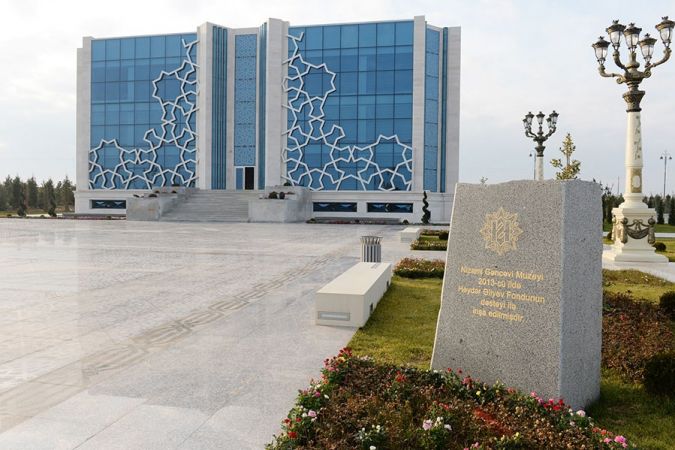 By Nigar Orujova
Azerbaijani government has opened two cultural centers in Ganga in honor of its two famous national poets.
The museum of world famous Azerbaijani poet Nizami Ganjavi and the Mahsati Ganjavi center opened their doors to visitors.
The centers both built with the support of Heydar Aliyev Foundation were inaugurated by President Ilham Aliyev.
Indispensable representatives of Azerbaijani literature, both Nizami and Mahsati were born in the ancient Ganja.
The 12th century greatest representative of the Eastern Renaissance Nizami Ganjavi expressed in his immortal works a man's inner world, his feelings and thoughts.
Nizami's poems played a great role in the enrichment of the love theme with social, universal ideals and humane contents. Nizami's creativity included a strong "Azerbaijanianship" ideology which reflects the love to his country and people.
At present, Azerbaijan is planning to work hard on Nizami's works. To this end, several scientific trips by Azerbaijani researchers are planned to be made to scholarly centers in Russia, Europe and the U.S.
Nizami's museum is equipped with modern technology. Its research section provides the researches with necessary material for studying Nizami's works. The museum has a conference hall for scientific events and several rest rooms for tourists. An electronic kiosk provides the visitors with information about the great thinker's life. Moreover, books and monographs published on the 800th birthday anniversary of the poet are available for the visitors.
The Mahsati Ganjavi center was set up as part of events held in Azerbaijan to mark the 900th anniversary of Azerbaijan's first poetess and chess player.
The inimitable poetess Mahsati Ganjavi was famous not only as an author of Rubaiyats praising her homeland, but also as a performer of lyrical romances. Love was a key theme in her works, distinguished by its humanism, epicurism and optimism.
The center, which demonstrates the rich heritage of Mahsati Ganjavi has a rich art gallery, a reading room with an electronic version of her Rubaiyats in Azerbaijani, Russian and English languages.
In an exhibition being held in the center, the visitors may find books on the legacies of Mahsati Ganjavi and Nizami Ganjavi, the art of Azerbaijani carpet weaving, national musical instruments, samples of national women dresses worn in Mahsati times.
The Mahsati center presents extensive scientific information about the life and work of other prominent Azerbaijani poets and thinkers.
The center also holds a music studio, a music library and folk music Mugham and piano departments.
Related News