First hologram concerts due in Azerbaijan in fall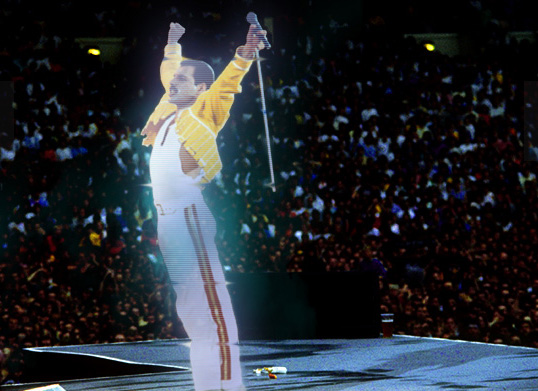 By Nigar Orujova
The first hologram concerts of deceased world-famous stars will be held in Azerbaijan in fall, the project organizer Tural Shikhaliyev told the local press.
Holography technique enables three-dimensional images to be made involving the use of a laser as well as suitable illumination of the recording. The image changes as the position and orientation of the viewing system changes in exactly the same way as if the object were still present, thus making the image appear three-dimensional.
"Concerts with performing holograms of the world's celebrities are quickly gaining popularity because they provide an opportunity to see on stage the musicians who have passed away. For example, more than 20 million people viewed the hologram concert of the late rapper Tupac Shakur on YouTube. The hologram concerts are underpinned by a technology of creating large-scale optical illusions based on previously made recordings of the artists. It is planned to present concerts of Elvis Presley, Michael Jackson, Whitney Houston, Viktor Tsoi and others," Shikhaliyev said.
The world's first 3D hologram concert took place in Japan in 2010. The concert featured Hatsune Miku, a famous Japanese anime singer, with a voice synthesized through the program Vocaloid Synthesizing Technology from Yamaha. Hatsune's first live performance was in 2009 and varied performances were used for subsequent concerts, including one in L.A.