Samad Vurgun: a poet with pen as sharp as weapon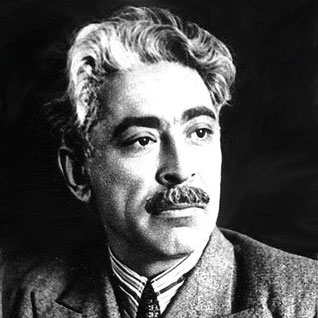 By Nazrin Gadimova
On May 27, 1956 we lost great Azerbaijani poet Samad Vurgun, the founder of a new school of poetry in Azerbaijan.
The first work of Vurgun - the poem "Address to Youth" - was published in 1925 in Tbilisi newspaper New Thought. Today every Azerbaijani schoolchild is familiar with his poetry. It is set to music and performed by leading Azerbaijani artists.
During his youth he lived through the tough years of World War II. This challenging period had a very significant impact on his poetry, which was a real weapon against the enemy in that difficult time. He wrote over 60 poems on the theme of the Great Patriotic War. It was not an easy task, but in his works the young poet managed to inspire optimistic mood amongst the people, who were suffering from the hardship of war. He was calling on people to be patient and hardworking to attain victory.
Vurgun's popularity grew during the propaganda campaign - leaflets with his creation "Ukrainian partisans" were dropped from planes over local forests to maintain the high spirit of the guerilla fighters.
His poem "Parting Mother" was highly appreciated as the best anti-war work during a contest held in the USA in 1943. It was published in New York and distributed to military personnel after it was selected among the best 20 poems of world literature about the war.
During Wold War II Vurgun created poems dedicated to the deeds of Azerbaijanis in the fight against fascism. In the poems "Nurse", "Bearer", "The story of the old soldier", "Brave Falcon", and "Unnamed Hero", he describes the selfless struggle against the invaders, the heroism of Azerbaijani soldiers and their contribution to the liberation of people from fascism.
Samad Vurgun could become a poet of the nation due to his patriotism and unique talent.
In 1943 Vurgun was awarded the title of Honorary Artist of Azerbaijan SSR, and two years later he was elected to the Azerbaijan National Academy of Sciences.
His works have been translated into many foreign languages. For many years he headed the Azerbaijan Union of Writers, was repeatedly elected a deputy of the Supreme Soviet of the USSR and Azerbaijan, and was awarded many orders and medals. His early lyric poems were published only after his death, in a compilation called "Chichek" ("Flower").
Living in the era of a communist dictatorship, Vurgun had to praise the regime in his works, but in spite of this, the creativity of Vurgun, the restrained style of his poems had a tremendous impact on the development of the Azerbaijani poetry.