4 July 2012 09:50 (UTC+04:00)
907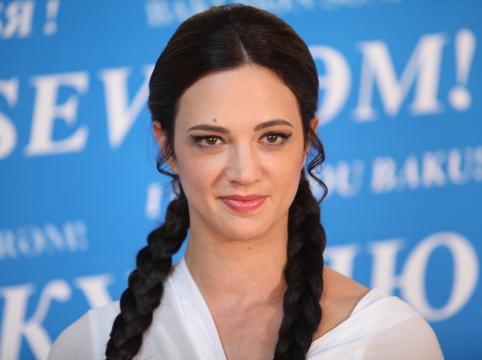 Famous Hollywood actress Asia Argento arrived last Friday in Azerbaijan`s capital to participate in the implementation of the movie project "Baku, I love you" that aims to make a series of short films.
According to Shahnaz Abdullayeva, spokesperson for the film project, actors, actresses and film directors from Russia, Belarus, Lithuania, Portugal and the UK have already taken part in the shootings.
Italian and Turkish movie stars are expected to arrive in Azerbaijan shortly.
Head of the project is Vice-President of the Heydar Aliyev Foundation Leyla Aliyeva, while producers are Yegor Konchalovsky and Nadir Machanov.
"Baku, I love you" project consists of 10 short films, each lasting 9 minutes.
Aria Asia Maria Vittoria Rossa Argento is an Italian actress, singer, model and director. She was born on September 20, 1975. Her mother is actress Daria Nicolodi and her father is Dario Argento, an Italian film director, producer and screenwriter, well known for his work in the Italian giallo genre and for his influence on modern horror and slasher movies. Her maternal great-grandfather was composer Alfredo Casella.
When Asia Argento was born in Rome, the city registry office refused to acknowledge Asia as an appropriate name, and instead officially inscribed her as Aria Argento. She nonetheless uses the name Asia Argento professionally. Argento has said that as a child she was lonely and depressed due, in part, to her parents` work. Her father used to read her his scripts as bedtime stories. At age eight, Argento published a book of poems. At the age of 14, she ran away from home. She was an introvert and read to make up for having no friends.
In an interview with Filmmaker magazine she said she was agoraphobic while she was writing Scarlet Diva and that she could not leave her apartment for months. She said: "I was afraid to go out of my apartment for a long time, I could only go out to work."
Argento has mentioned in interviews that she does not have a close relationship with her father. She has mentioned that he was absent when she was a child. She has also mentioned that she did not have a happy childhood. Regarding her relationship with her father and her reason for acting, she said:
"I never acted out of ambition; I acted to gain my father`s attention. It took a long time for him to notice me - I started when I was nine, and he only cast me when I was 16. And he only became my father when he was my director. I always thought it was sick to choose looking at yourself on a big screen as your job. There has to be something crooked in your mind to want to be loved by everybody. It`s like being a prostitute, to share that intimacy with all those people."
Category News