Fikrat Amirov's ballet captivates audience in St. Petersburg [PHOTOS/VIDEO]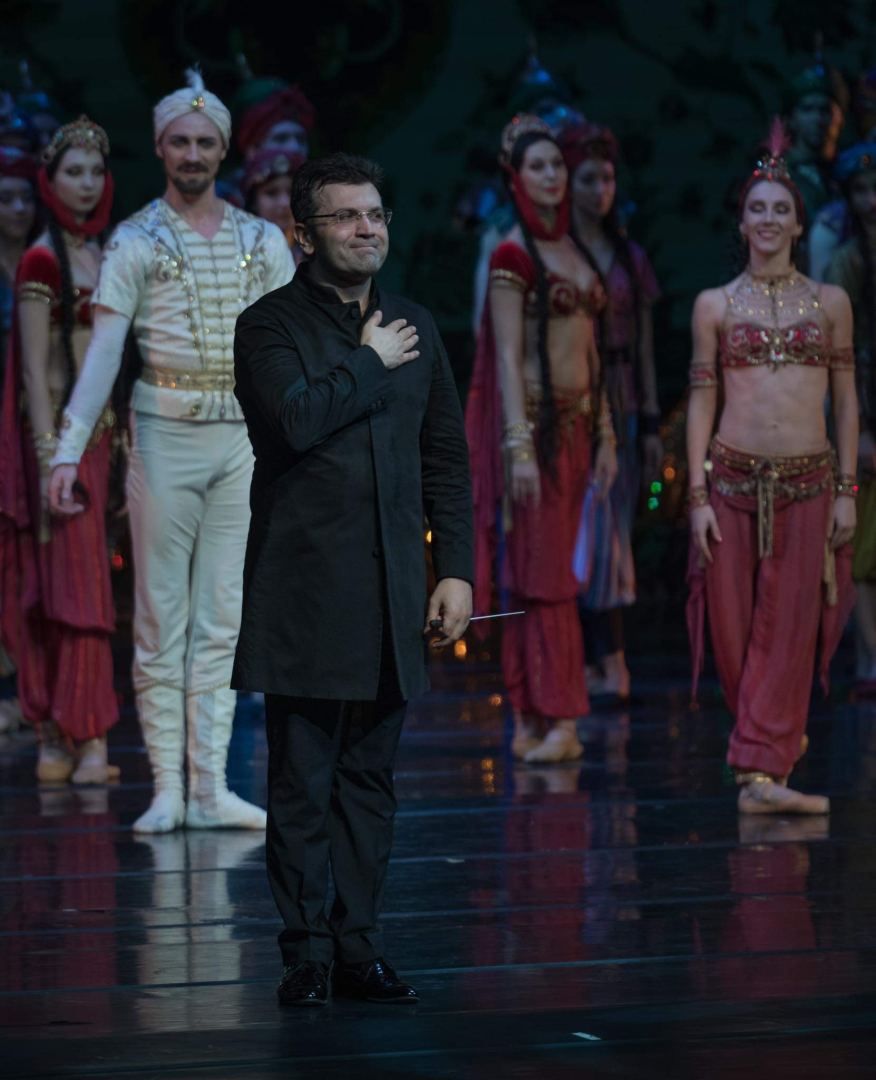 Fikrat Amirov's ballet "One Thousand and One Nights" has captivated the audience in St. Petersburg, Russia.
The Mariinsky Theater's Primorsky Stage presented the ballet as part of its tour, Azernews reports.
The ballet's new version was staged by the artistic director of the ballet company of the Primorsky Stage,Russian Honored Art Worker Eldar Aliyev.
The ballet production in St. Petersburg was presented under the baton of the musical director and the principal conductor of the Azerbaijani State Academic Opera and Ballet Theater, Honored Artist Ayyub Guliyev.
"The ballet's premiere took place in Vladivostok in August 2020. We prepared for the premiere with great enthusiasm. Since its premiere, the production has gained worldwide success. Every year, the ballet has been staged at the Mariinsky Theater at the invitation of the theater's general director Valery Gergiev. The ballet show has always taken place with the full house. One Thousand and One Nights has been shown at Rudolf Nureyev International Festival of Classical Ballet, Sofia Opera and Ballet Theater. This time the ballet once again won the hearts of the audience. The ballet was accompanied by the Symphonic Orchestra. The performance of Anastasia Kikot, a soloist of the Primorsky Stage left no one indifferent. The ballet dancer, the theater soloist Renata Shakirova brilliantly embodied Scheherazade," the conductor said.
Ayyub Guliyev stressed that Fikrat Amirov's ballet is beloved by the ballet lovers.
"This ballet production has been always embraced by the public. We will always do our best to make the performance as grand as possible. Despite the fact that the musicians are constantly changing, some performances are held without rehearsals, and for some musicians, this is the debut performance, all perform with great dedication. The audience in the concert hall stood up and applauded. It was a truly wonderful experience!," he added.
The ballet on the oriental theme "A Thousand and One Nights" plunged the St. Petersburg audience into a magical atmosphere.
For more than forty years, this ballet has been staged with triumph on world stages.
Well-known in English as the Arabian Nights, the work is about Scheherazade, a Sassanid Queen, who tells a series of stories to her husband, King Shahryar in order to delay her execution.
The ballet was first staged at the Azerbaijan State Academic Opera and Ballet Theater in 1979.
The ballet's new version was premiered as part of the 5th Mariinsky International Far East Festival in 2020.
Azerbaijan's traditional musical instruments - tar and naghara (drum) - were presented to the theater on behalf of the national musicians.
The idea to add tar performance came from Eldar Aliyev. Ramin Azimov, the soloist of the Azerbaijani State Academic Opera and Ballet Theater, performed on tar together with chief librarian of the Primorsky Stage Nadezhda Medvedeva.
---
Follow us on Twitter @AzerNewsAz