Azerbaijani dances that will get your feet tapping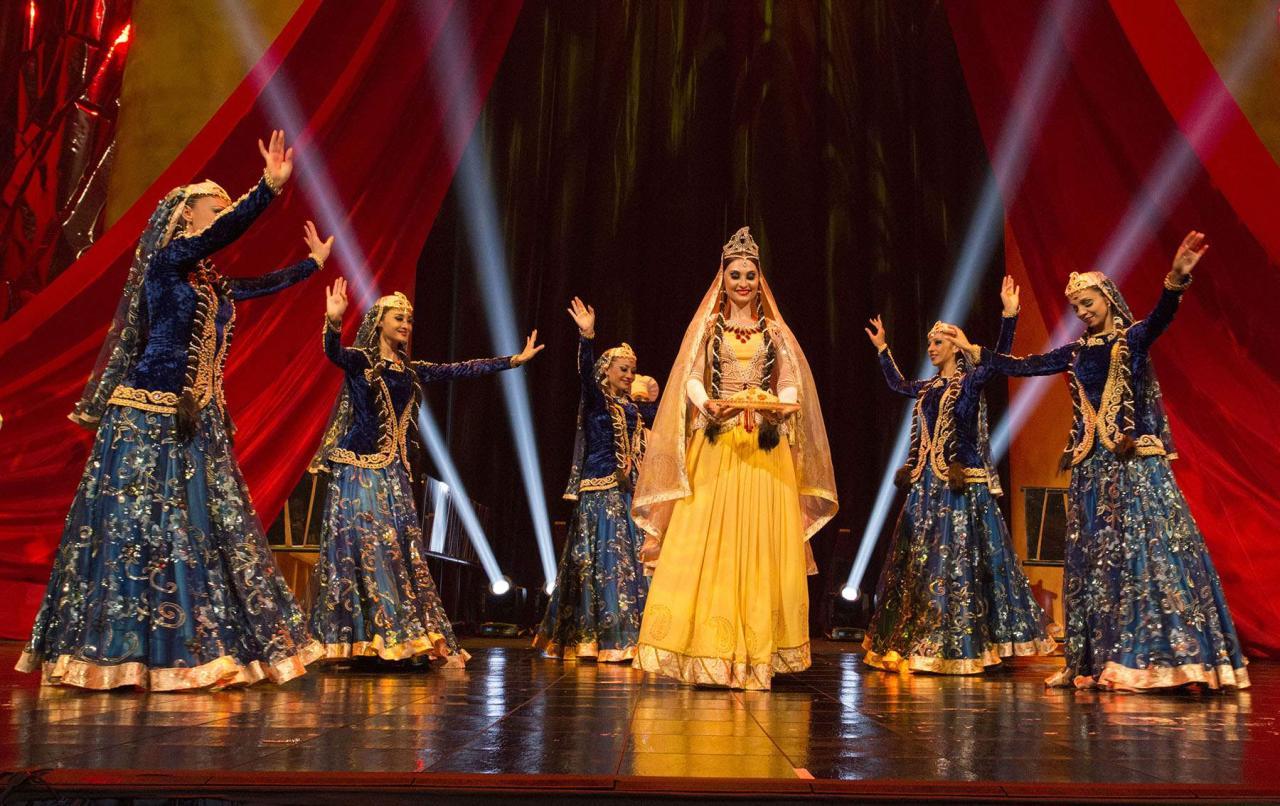 By Laman Ismayilova
Azerbaijan enjoys a rich cultural heritage which includes a varied collection of folk dances. Traditional dances are among the most prominent cultural heritage of Azerbaijani people that passed through generations.
Azerbaijani folk dances have a very ancient history, which is evidenced by the rock carvings depicted in Gobustan. The first dances were ceremonial and hunting ones. Since the early Middle Ages various kinds of dances have started to form in Azerbaijan.
As a rule, the Azerbaijani dance is divided into the three parts: the first part is a circle, the dancer holds the body high, the second –congealing on the spot (suzme) and the third – again the circling. The third part is characterized by rhythm, and strong emotions.
Many dances, especially the old ones, are called the most beloved animals or plants. These include: "gazelle", "lale" (field poppy), "benevshe" (violet), etc.
They are divided into a very smooth and lively. The musical size of Azerbaijani dances is 6/8 and 3/4.
The dances of male and female sharply differ from each other.
Women's dances are characterized by soft lyricism and plasticity of graceful smooth movement.
Long skirt defines the tender movement of feet. The dance is focused entirely on used technique of upper parts of arm and corpse (shoulder, head, mimics of face etc).
The main feature of male dance is technique of feet. The dancer stands quickly on the tiptoe, and then quickly falls on his knee, etc.
The Land of Fire has many traditional and modern dances, with great variation in style and form across the country.
Here are a couple of examples of some amazing traditional dances:
Vagzali is played when the bride is seen off from her family house to the house of the bridegroom and her departure is reflected in this dance.
Gangi (meaning related to war) calls all people to unity, friendship and invincibility.
Yalli is a very old and very custom dance in Azerbaijan. At first times, it was performed in form of traditional celebration of fire, which was source of heat, light, and warm food. In this traditional celebration, dancers worship fire as a goddess. This dance is performed by a group of people and in ancient times whoever didn't dance properly was fined by the chieftain who makes him sing a song or dance another dance.
Lezginka is a national dance of Lezghins popular among many people in the Caucasus Mountains. Azerbaijanis have their own dance versions.
Mirzayi is traditionally played at wedding parties and performed by men and women with handkerchiefs in their hands.
Nalbeki (saucer) is a dance performed only by women, during the dance saucers are used.
Terekeme is a dance of tribesmen. Those who are dancing extend their arms and go forward with their heads up. This dance is filled with the feelings of freedom and expansiveness. Both men and women perform it.
Abayi dance is originated from Shaki and Zaqatala regions.
In this area middle-aged people are called "Abayi" and this kind of dance is generally performed by middle-aged men or women. Creators of the melody of this dance are the Shaki composers.
This kind of dance used to be performed in group formerly, but later on changed to an individual dance.
Agir Karadagi is Azerbaijani melody of a dance that is created in Karadakh. It is very popular in Shaki and Zaqatala in Azerbaijan and performed slowly.
Alcha Gulu is an Azerbaijani-Indian dance created between 1910 and 1920 in Shaki region by Ali Karimov who lived in Kalva village. The dance is performed by women and has a fast dancing tempo.
Anzali is the melody of a dance which is almost created in the years 1880-1890 in Baku. It is performed slowly and for this reason it is suitable for old people. "Anzali" dance is performed at the beginning of marriage ceremonies. In origin the old people perform this dance.
Asma Kasma is one of the oldest Azerbaijani dances. Its name comes from music by the name of "Asma-Kasma" and they use this music when they escort the bride to the bridegrooms home and women dance in the opposite of the bride.
Asta Karabagi is originated from Karabakh. Its arrangement of movements is fixed and it has a slow dancing tempo.
Avari is appointed to the Avari people who live in Azerbaijan. This dance is very popular in Azerbaijan. It consists of three parts. At first it is slow, and little by little becomes faster, and at the end part it changes to the quick rhythm of the Lezginka music.
Banovsha is performed with his feelings, showing how the violet grows from the ground, blooms and fades.
Birilyant dance has two different kinds. One of them is created in Baku in 1920-1922. Its music tempo is fast. This one is performed by men. The second one is only for women. Its music is performed elegant and melodious. Its velocity is slow.
Jeyrani dance shows the gazelle's gracefulness and elegance. It is performed by men and women.
Chichekler (flowers) is a very elegant and graceful dance. In origin this dance is performed by women in two different forms: slow and fast. It was created in 1910. The group of girls gathers together and collect flowers. They would like to show off and demonstrate to the public how pretty flowers look. Flowers are associated with how pretty the girls are in the colorful costumes. They form circles and triangles during the dance.
Choban Regsi (Shepherd's Dance) is danced only by male performers. The costume is typical to the rural areas and particular to shepherds. This dance symbolizes a cheerful spirit of the shepherd who brings his herd to the valley.
Innabi (fruit) is a girl's dance and performed by one or two girls. The dancers show a woman's airs and graces as well as coquetry.
Zorkhana (house of strength) is a men's dance which brightly symbolizes courage, bravery and youthful enthusiasm.
Gaitagi a national dance of Azerbaijan. The performers are characterized by a fast rhythm, and expression of bravery, strength and temperament. It is very rapid and dynamic dance.
Heyvagulu is choreographed under the Seygah mugham.
Uzundara (literally "a long gauge") is a long dance performance. It is traditionally used to be performed when the bride and bridegroom are on the road.
Turajy is stand out with lyric and subtle melody. The dance is performed only by women.
Azerbaijani dances have long history of formation.
The first professional dance group in Azerbaijan was created in 1938 on the basis of amateur performance. The ensemble performed with a diverse repertoire, consisting of ancient and modern folk dances.
In 1959, a girlish amateur dance ensemble "Chinar" was created in Azerbaijan under the leadership of Amina Dilbazi. Soon this collective became a professional folk ensemble.
The first edition of the collection comes out to "dance tunes of Azerbaijan" (1937), which was prepared by Said Rustamov. The collection includes 30 of the most popular dances. These dances and to this day do not lose their relevance. The collection was reissued in 1950 by S. Rustamov.
In 1951 Tofig Guliyev, Zakir Bagirov and Mammad Saleh published a collection entitled "Azerbaijani Folk Dances". This collection also included ancient dances. The editorial board of the collection and the writing to it of the preface was made by the composer S. Rustamov.
Today, traditional dances are still performed by people of Azerbaijan.
Now they are widely taught and performed throughout country.
Many Azerbaijani folk dancing groups mesmerize viewers across the world. National dancers are the winners of numerous international competitions.
---
Laman Ismayilova is AzerNews' staff journalist, follow her on Twitter: @Lam_Ismayilova
Follow us on Twitter @AzerNewsAz