29 March 2013 20:56 (UTC+04:00)
1 197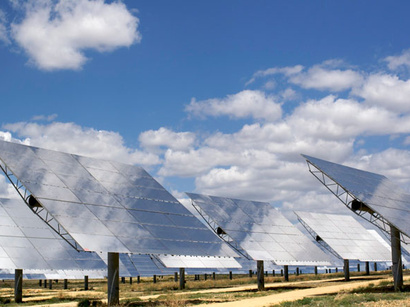 By Nigar Orujova
The establishment of the State Agency for Alternative and Renewable Energy Sources as well as accession of Azeralternativenerji Ltd. to it creates opportunities in alternative energy and therefore requires the necessary infrastructure, an energy market source told Trend news agency.
On February 1, 2013, Azerbaijani President Ilham Aliyev signed a decree on additional measures in the field of alternative and renewable energy sources. This decree established an independent State Agency for Alternative and Renewable Energy as opposed to the previous State Agency for Alternative and Renewable Energy of the Ministry of Industry and Energy. The decree defined the structure, location and staff of the agency. The agency is headed by Akim Badalov.
Also, according to the decree, the state company on alternative and renewable energy sources was reorganized into Azeralternativenerji Ltd. and transferred to the State Agency.
The tasks of Azeralternativenerji Ltd. include exploration, development, energy production, distribution, and design of equipment, activities in the fields of manufacturing, construction, operation and infrastructure support, etc.
Accordingly, the source said, extensive logistics, human resources, training, attraction of consultants will be required for the creation of the infrastructure and facilities in the alternative energy sector.
The source noted that the work will be stepped up after approval of the strategy for the development of alternative and renewable energy sources and creation of the necessary legal and regulatory framework in the field.
The preparation of the strategy has been completed and the issue is currently under consideration of the Cabinet of Ministers.
Operation of the new agency, adoption of the strategy in the field of alternative energy and formation of the necessary legal framework in this area will give an impetus to the development of this modern and high-tech field, increasing the share of alternative energy in the total energy production.
The agency has the mandate of the principal regulatory institution in the sphere of alternative and renewable energy and is tasked with assessment of sustainable energy potential, shaping relevant policies, including tariff policy, elaboration and enforcement of relevant procedures, such as the issue of special permissions to the public and private entities to construct power generation facilities.
The agency has plans to increase the share of renewable energy sources to 20 percent by 2020 from the current 10 percent. In accordance with the plans, the generation capacity of alternative energy sources will be brought to 2,000 megawatts by 2020.
Azerbaijan invested up to $100 million to develop alternative energy over the last four years.
According to the Industry and Energy Ministry, some 7 billion manats (about $8.9 billion) are needed to bring the share of alternative and renewable energy sources in Azerbaijan's energy production to 20 percent.
Related News