Hungarian trading house opens in Azerbaijan (UPDATE)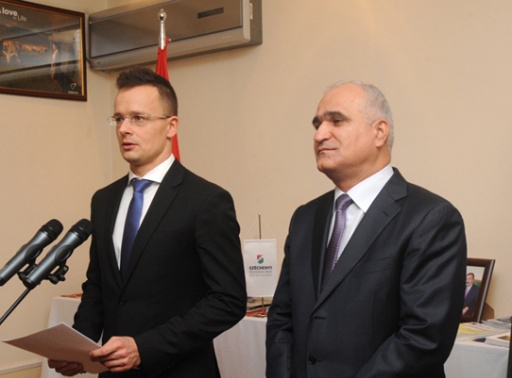 By Nigar Orujova
The first Hungarian international trading house was opened in Azerbaijan on December 5.
The trading house was established in Azerbaijan as the two countries are strategic partners, Peter Szijjarto, Hungarian State Secretary for Foreign Affairs and External Economic Relations, said at the opening ceremony.
He said the first reason of opening the House in Baku is the strategic cooperation between the two countries and the second one is compliance of the supply of the Hungarian economy with Azerbaijan's demand.
Szijjarto, co-chairman of the intergovernmental economic commission, said one of the major goals of the event was to develop cooperation between Azerbaijan and medium-sized businesses from Hungary, which is required to further export their products to Azerbaijan.
A Hungarian delegation headed by Szijjarto, which consists of economic, banking and tourism sectors' representatives, took part in an Azerbaijani-Hungarian business forum on the same day.
Azerbaijani Economic Development Minister Shahin Mustafayev told the business forum that political relations between Azerbaijan and Hungary are at a high level and there is potential for their further development, which is confirmed by numerous visits and meetings.
Mustafayev said that the two countries have signed some 30 documents, which creates favorable conditions for the development of Azerbaijani-Hungarian economic relations, noting that they have the potential for developing cooperation in investment, construction, pharmaceuticals and other fields.
"The government support for businessmen looking to cooperate with Hungarian companies is being guaranteed," Mustafayev said. "There is also the necessary legal framework."
According to Szijjarto, the pharmaceutical industry is one of the potential areas of cooperation between Azerbaijan and Hungary.
"As we agreed at the bilateral meeting with Shahin Mustafayev, the minister will meet with representatives of the largest pharmaceutical companies in Hungary in early 2013, and a joint business forum on Investing in Health will be held in the first quarter of 2013," Szijjarto said at the forum.
He noted that bilateral cooperation should also be encouraged in agriculture, construction, assembly of vehicles, and water and air transport.
"Hungary is interested in cooperation with Azerbaijani companies in the implementation of projects for road, railway and bridge construction," Szijjarto added.
In addition, Azerbaijan and Hungary have agreed to launch a student exchange program, he said.
Szijjarto also said Hungary was impressed by Azerbaijan's economic achievements in past years.
Trade turnover between the two countries in January-October 2012 amounted to $13.397 million.
Although bilateral trade amounted to only $85 million in 2008, the annual growth of foreign trade operations made up eight percent.
Hungary recognized independence of the Republic of Azerbaijan in 1991, while diplomatic relations between the two countries were established on April 27, 1992. Since then friendly political, economic, scientific and cultural Azerbaijani-Hungarian relations have been developing.
Energy security
Szijjarto told the press that Hungary considers Azerbaijan as a guarantor of Europe's energy security.
He said the Hungarian side is interested in implementing the Nabucco gas pipeline project and Azerbaijani gas supplies to central Europe via this route.
The Nabucco project is a priority route for delivering Caspian and in particular, Azerbaijani gas to south-east and central Europe and one of the main and important elements in ensuring European energy security.
Touching upon the Azerbaijan-Georgia-Romania Interconnector (AGRI) gas project's implementation, Szijjarto stressed that this project is not being developed as fast as expected.
"Acceleration of the project's implementation depends directly on the participating countries," he said.
A feasibility study is being prepared by British oil and engineering firm Penspen within the AGRI project. This means the estimated amount of investment required for its implementation has not yet been determined.
After the study is prepared, the most economically reasonable location for construction of a liquefied natural gas terminal on the Black Sea coast of Georgia will be selected. Based on this document, the amount of investment required for the planned work on the territory of Georgia will be determined.
AGRI is a proposed project to transport Azerbaijani natural gas to Romania and further to central Europe.
At this stage, the project participants are four countries - Azerbaijan, Georgia, Romania and Hungary. The parties established a joint venture for the project - SC AGRI LNG Project Company SRL - in February 2011.
Direct flights
Szijjarto also noted that Hungary hopes to operate direct flights to Azerbaijan.
According to Szijjarto, the issue of running a direct flight from Baku to Budapest is on the agenda and being discussed with the Azerbaijani Ministry of Economic Development.
"It would be a great advantage and a step [forward] in the development of economic relations between the two countries," Szijjarto said.