First industrial clusters to appear in Azerbaijan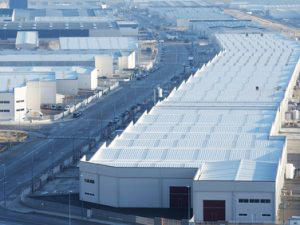 By Kamila Aliyeva
The state has set the goal that future development of Azerbaijan should be connected with the development of industry. So, the country attracts significant amount of public investment in industrial sectors that are of strategic importance for republic.
Creation of industrial cluster, a regional concentration of related industries in a particular location, is one of these measures, which can attract all the key players from both home and abroad. Such clusters are actively established in many cities around the world.
The first industrial clusters in Azerbaijan will appear in Sumgayit and Balakhani settlement.
The clusters will be formed around the SOCAR Polymer petrochemical complex in the Sumgayit Chemical Industrial Park and the Balakhani landfill for the disposal of solid domestic waste, the director of the Research Institute of Economic Reforms, Vilayat Veliyev, told journalists on November 13.
"With the advent of clusters in Azerbaijan, a new stage in the development of industry will begin," he added.
Director of the Institute noted that, in particular, SOCAR Polymer will produce about 200 types of raw materials and semi-finished products on the basis of which small and medium-sized enterprises will be able to produce a large number of goods - from household appliances to complex machinery and machines.
"The creation of clusters will provide an opportunity for small and medium-sized businesses to unite around SOCAR Polymer and the Balakhani landfill for solid domestic waste utilization, and create their own production chain based on raw materials produced at these enterprises," Veliyev said.
He added that at present the government is working on the formation of a legal basis for the creation of industrial clusters, in connection with which various studies have been conducted and foreign experience has been studied.
The total cost of the SOCAR Polymer project is $750 million. In the first quarter of 2018, it is planned to put into operation a plant for the production of polypropylene, and in the third quarter - a polyethylene plant. At the first stage, the production capacity will amount to 120,000 tons of polyethylene and 180,000 tons of polypropylene. By 2021, the total capacity can reach 570,000 tons of products. The petrochemical complex will sell its products both inside the country and abroad - in Turkey, Europe and CIS countries.
The Balakhani landfill for solid domestic waste utilization was established in the 1960s, and since 2009 it has been transferred to the balance of Temir Şəhər OJSC. Since that time, the implementation of the project on integrated waste management in Baku jointly with the World Bank, which allowed the activities of the landfill to be brought into line with international standards, has been launched.
---
Kamila Aliyeva is AzerNews' staff journalist, follow her on Twitter: @Kami_Aliyeva
Follow us on Twitter @AzerNewsAz