8 August 2016 15:55 (UTC+04:00)
3 009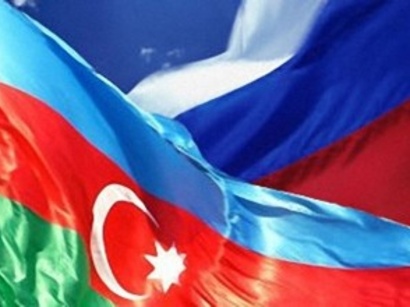 By Nigar Abbasova
Income of Russian companies from the investments made in Azerbaijan has already amounted to $2 billion, Azerbaijan's Economy Minister Shahin Mustafayev said, while addressing the enlarged session of the Russian-Azerbaijani and Azerbaijani-Russian business councils.
"Investments of Russia in Azerbaijan worth billions of dollars. Some $325 million of the total volume of investments was made in the non-oil sector of economy while investments made in the oil sector of the country totaled $2.8 biillion. Income of Russian companies has already amounted to $2 billion," he said.
He said that bilateral relations between the two countries are developing steadily in all directions underlining the spheres of economy and mutual investments.
"Azerbaijan-Russia relations are developing successfully – our countries are strategic partners," noted the minister.
Mustafayev also mentioned that Azerbaijan is aimed at increasing export and investments to Russia.
"Mutual investments and the trade turnover are growing year by year and it pleases us, but our potential is much greater," he added.
He also underlined that Azerbaijan is currently engaged in the development of non-oil sector and attraction of foreign investments to the country. "Russian market is of great importance for us, therefore, we should increase export potential of the country and stimulate export to Russia."
Highlighting the cooperation between Azerbaijan state energy giant SOCAR and Russian Gazprombank the minister said that the Russian company has issued a credit for the construction of plants SOCAR Polymer and petrochemical complex.
Minister also mentioned that the two countries are also involved in the creation of P-Pharm Company on the production of medicines.
Petr Fradkov, chairman of the Russian-Azerbaijani business council, in turn said that the council is planning to initiate implementation of about 5 join projects in 2016. He mentioned that the council has a preliminary plan of activities for the remaining part of 2016, regardless the fact that it was established in May, 2016. He also mentioned that the Russian export center has so far rendered its support for the implementation of 10 projects worth over $380 million.
Alexey Ulyukaev, Russia's Minister of Economic Development and Trade said that the physical volume of export of Azerbaijani goods to Russia increased significantly in 2016.
"Trade between our countries experiences a number of difficulties due to the fluctuation of exchange rates and decrease in energy prices. But along with this it should be noted that the physical volume of export of Azerbaijani goods to Russia, in particular of crop production, has grown. We attach great importance to the expansion of economic cooperation with Azerbaijan," he said.
Russian-Azerbaijani partnership is regarded as an important factor of regional stability.
Azerbaijan ranks fifth in Russia's foreign trade with the CIS countries (following Belarus, Kazakhstan, Ukraine and Uzbekistan). At the same time, Russia is also considered to be a leading importer of Azerbaijani goods. Some 600 Russian companies are operating in Azerbaijan.
The trade turnover between Azerbaijan and Russia totaled $739.8 million in January-May 2016, according to Azerbaijan's State Customs Committee. Overall volume of Russian investments in the country amounts to $3 billion.
Some 170 agreements, with 50 being in the sphere of economy have been so far concluded between the two countries.
The country is in the first place among importers from Azerbaijan with a share of 18.3 percent ($609.6 million), while in the list of exporters Russia ranks the 8th with the amount of $130.2 million (with specific weight of 4.27 percent).
--
Nigar Abbasova is AzerNews' staff journalist, follow her on Twitter: @nigyar_abbasova
Follow us on Twitter @AzerNewsAz
Related News