West argues that Iran tries to buy time on its quest to become nuclear power: expert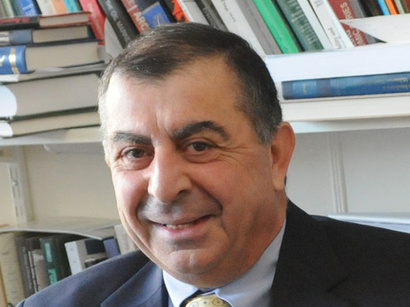 The West argues that the whole nuclear issue is a charade for the Iranian government to buy time and continue its quest to become a nuclear power, professor of economics at U.S. Northeastern University, Kamran Dadkhah told Trend.

"Hence, it is imperative for Iran to prove to the international community that its nuclear activities are peaceful," he added, commenting on the recent developments with Iran's nuclear program.

The Islamic Republic's nuclear negotiating team reached an agreement with P5+1 group on Nov. 24, according to which, Iran has agreed to curb some of its nuclear activities for six months in return for sanctions relief. Both Iran and the P5+1 group have agreed to implement the agreement starting from Jan. 20.

The U.S. and its Western allies suspect Iran of developing a nuclear weapon - something that Iran denies. The Islamic Republic has on numerous occasions stated that it does not seek to develop nuclear weapons, using nuclear energy for medical researches instead.

Commenting on Iran getting access to its $4.2 billion of assets blocked overseas, Dadkhah said that Iran is of course interested in getting its money back.

Under the agreement, six major powers agreed to give Iran access to $4.2 billion in revenues blocked overseas if it carries out the deal, which offers sanctions relief in exchange for steps to curb the Iranian nuclear program.

Iran would be getting the mentioned assets gradually, during the agreed six months.

"It is about both Iran getting money and proving that its nuclear activities are peaceful," he said. "The Iranian government has felt the sting of sanctions."

"We may recall that by the end of summer, inflation rate was 40 percent and unemployment rate more than 12 percent according to official figures," he continued. "Moreover, the fall in oil revenues and the blocking of Iran's money in foreign banks caused a shortage of foreign exchange."

"As a result, the exchange rate for the dollar vs. the rial has tripled," Dadkhah said. "In sum, according to Iranian officials, the country's economy was in crisis and in a free fall."

The professor went on to add that under such circumstances, the government had no choice but to come to some agreement to ease and ultimately lift the sanctions.

"But at the same time many in the United States and in the world are suspicious of the Iranian government motives and intentions," he underscored.

Following the latest developments on the Iran-P5+1 agreement, Iran has announced on Jan. 20 that as part of the deal, it suspends the enrichment of uranium to 20 percent, and will continue to work within the framework of the deal.