PACE observers concerned over inaccuracies in Armenia election lists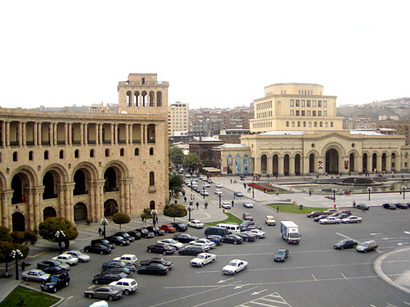 A PACE pre-election delegation is concerned about the inaccuracies in the election lists on the eve of presidential elections in Armenia, head of the delegation Karin Woldseth said during a press conference dedicated to assessing the electoral processes before the presidential elections in Armenia on February 18, Trend news agency reported on Friday referring to ARKA agency.
A PACE delegation, consisting of five members, headed by Norwegian MP Karin Woldseth, is in Armenia as part of the observation mission at the invitation of speaker of the Armenian parliament.
"The accurate lists are a precondition for holding the elections properly," Woldseth said. "Currently there is no clarity on the issue of voting rights for immigrants from Armenia living abroad."
He stressed that the previous recommendations were not fulfilled to resolve these problems.
Woldseth also reported the delegation's concerns about the lack of public interest and confidence in the upcoming elections.
"The electors do not appear to have enough interest and confidence in the electoral process a month before the elections," he said.
Leader of the opposition Armenian National Congress Levon Ter-Petrosyan and Chairman of the Prosperous Armenia party Gagik Tsarukyan refused to take part in the elections.
Head of the delegation said that non-participation of major opposition forces limited the choice of voters, thus creating a 'deplorable situation'.
She stressed the need to restore public confidence, as appropriate elections are essential to develop democracy in the country.
Woldseth hopes that the threats against voters and widespread use of administrative resources in the parliamentary elections of 2012 will not be repeated. Equal conditions will be created for all the candidates for president.
During the visit, members of the PACE election delegation met with Armenian President Serzh Sargsyan and other presidential candidates, leaders of parliamentary factions, head of the Central Election Committee Tigran Mukuchyan, Foreign Minister Edward Nalbandian, Armenia's Prosecutor General Aghvan Hovsepyan, police chief Vladimir Gasparyan, NGOs and media representatives, diplomats accredited in Armenia.
Presidential elections will be held in Armenia on February 18. Incumbent President Serzh Sargsyan, former prime minister and leader of the Freedom Party Grant Bagratyan, ex-foreign minister, chairman of the Heritage Party Raffi Hovhannisyan, Paruyr Hayrikyan, Arman Melikyan, Andrias Ghukasyan, Vartan Setrakian and National Accord Party leader Aram Harutyunyan have all been nominated as candidates.