Armenia gathers int'l terrorists on occupied territories - Azerbaijani defense ministry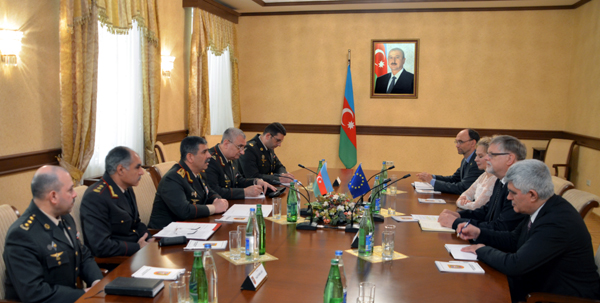 Armenia tries to gather mercenaries, members of international terrorist organizations from various hot spots around the world under the guise of volunteers and under any pretext on the occupied Azerbaijani territories, Azerbaijani defense minister, colonel-general Zakir Hasanov said.
He made the remarks Apr. 15 at a meeting with the EU delegation headed by EU Special Representative for the South Caucasus and the crisis in Georgia Herbert Salber.
"We are well aware of the fact that during the recent clashes Armenian forces were completely demoralized," Hasanov said. "Yerevan now openly collaborates with terrorist organizations and brings it to the level of state policy."
At the meeting, the defense minister presented to the guests detailed information about the increase in the activity of the troops on the contact line between Armenia and Azerbaijan, the situation that currently exists, and brought facts of enemy shelling of civilian population and settlements to the attention of the participants of the meeting.
"Internationally recognized Azerbaijani territory for more than 20 years remains under the occupation of Armenian military units, more than a million of our fellow citizens are refugees and IDPs," Hasanov said. "The negotiations are still futile. The UN Security Council's four resolutions demand the unconditional withdrawal of the Armenian armed forces from the occupied territories of Azerbaijan."
"The Armenian authorities have been ignoring the just demands of the international community and trying to maintain the current status quo for many years," Hasanov said.
He said that Azerbaijan urges the international organizations and the international community to assess this issue correctly and objectively.
"Otherwise, as Ilham Aliyev, Azerbaijani president, supreme commander-in-chief, stated, our armed forces will never agree with the occupation of the country's territory and certainly perform the sacred duty to liberate our lands," he said.
Khanlar Valiyev, deputy prosecutor general of the Azerbaijan Republic, military prosecutor, lieutenant-general of justice, also participated in the meeting.
Valiyev updated the guests about the facts and evidence on the participation of people, holding senior positions in the Armenian leadership, occupation of Azerbaijani territories, heinous crimes committed by the Armenians.
Valiyev also informed about the violence used by Armenian servicemen, who have violated the law of armed conflicts, against Azerbaijani civilians and the desecration of corpses left on the battlefield.
In conclusion, the answers were given to the guests' questions.
---
Follow us on Twitter @AzerNewsAz