21 July 2015 13:25 (UTC+04:00)
1 020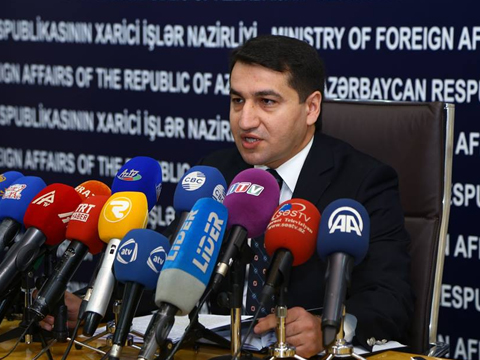 By Sara Rajabova
Baku has responded to an accusation made by Armenian President Serzh Sargsyan who said, "the EU should not equalize the Armenian and Azerbaijani parties to the Nagorno-Karabakh conflict."
Azerbaijani Foreign Ministry spokesperson Hikmet Hajiyev said on July 21 that by calling for the use of different approaches to Azerbaijani-Armenian relations, the Armenian president indeed admitted to reality.
Hajiyev's comments came in response to remarks by Sargsyan made during a joint press conference with President of the European Council Donald Tusk.
The official said undoubtedly, differences should be made between Armenia, which is an occupant and aggressor, and Azerbaijan, the state that has faced an occupation.
Hajiyev noted that in accordance with the UN Charter, a thorough legal assessment should be given to Armenia's aggression against Azerbaijan without using double standards, and the syndrome of Armenia's impunity should be ended.
Armenia occupied over 20 percent of Azerbaijan's internationally recognized territory, including Nagorno-Karabakh and seven adjacent regions, after laying territorial claims against its South Caucasus neighbor, causing a lengthy war in the early 1990s. As a result of Armenia's military aggression, over 20,000 Azerbaijanis were killed, 4,866 are still reported missing, almost 100,000 were injured, 50,000 were disabled, and over a million people became refugees and IDPs.
Armenia has not yet implemented the four U.N. Security Council resolutions on its pullout from Azerbaijan's territories.
"The decision on 'Chiragov and Others vs. Armenia' adopted by the European Court of Human Rights, determines Armenia's legal responsibility as an occupant state within the context of Armenian-Azerbaijani conflict," Hajiyev said.
The ECHR reaffirmed Armenia's responsibility in the occupation of Azerbaijani territories. The court ruled in favor of the applicants, recognizing Armenia's continuing violations of their rights under the Convention for the Protection of Human Rights and Fundamental Freedoms.
Hajiyev said Azerbaijan, which successfully conducted the First European Games, made a significant contribution to the popularization of the Olympic ideals and the "Olympic Truce" in all of Europe and South Caucasus.
He went on to say that Armenia, which continued to violate the ceasefire on the contact line on the eve of and during the First European Games, once again proved that it is nowhere near having Olympic ideals and civilizational values.
"This military junta and its modern sequel that came to power in Armenia through political terror and a coup in 1999, opened fire at peaceful demonstrators following the rigged presidential election in 2008, thereby showing the existence of a serious threat for Armenian citizens themselves," Hajiyev said.
He further noted that by staging provocations on the contact line, the criminal regime of the military dictatorship in Armenia, which has led the country into a political, economic, and humanitarian disaster, in fact tries to divert attention from domestic discontent.
Hajiyev reiterated that the continuing occupation and aggression by Armenia against Azerbaijan is the main threat to peace and stability in the region and Armenia is responsible for that.
--
Sara Rajabova is AzerNews' staff journalist, follow her on Twitter: @SaraRajabova

Follow us on Twitter @AzerNewsAz
Related News