Azerbaijani cookbook conquers U.S.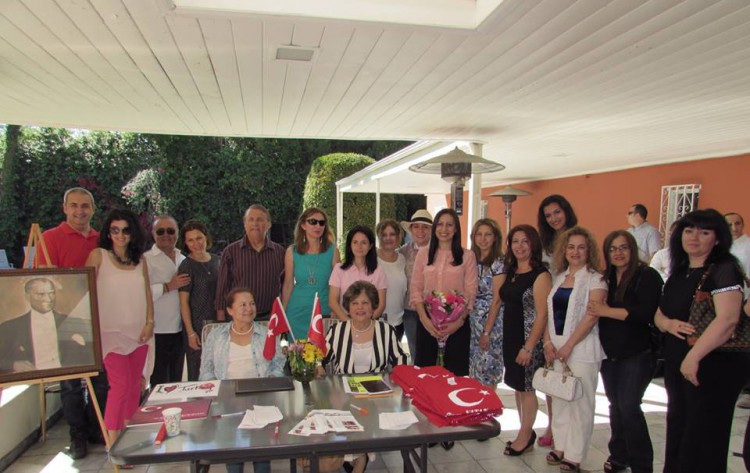 By Nigar Orujova
Azerbaijani author and food blogger Feride Buyuran has joined author appreciation and book signing event for six authors at the residence of the Honorary Consul General of Turkey to Los Angeles, Gulru Gezer.
Buyuran is author of "Pomegranates & Saffron: A Culinary Journey to Azerbaijan" book, that promotes delicious Azerbaijan cuisine in the English speaking world.
The event was organized by VATAN chapter of Association of Turkish Americans of Southern California and was attended by over 50 guests.
Acclaimed food writers Faye Levy, Yakir Levy, and Barbara Hensen have also joined the meeting.
The participants were served tea and treated to traditional Azerbaijani desserts, including Karabakh-style filled sweet bread and nut-filled rolls-ups, made from the recipes in the cookbook.
The authors, including Feride Buyuran, were recognized at the event with the award of Excellence presented by the ATASC President, Burcu Tansu, and VATAN President Vega Sankur. The event culminated with the authors signing copies of their books for the guests.
The Pomegranates and Saffron is the first comprehensive cookbook on Azerbaijani cuisine published in the U.S. on October 2014. This publication shows Americans the lipsmacking side of Azerbaijan.
The book contains some 200 recipes of traditional and modern Azerbaijani dishes in 15 categories, including appetizers and salads, soups and stews, vegetarian dishes, pasta dishes, and desserts, all adapted for preparation in a Western kitchen by the author.
The text is flavored with glimpses of local culture and traditional food-related proverbs that will make the reader's adventure even more memorable.
The book is a result of more than six years of exploring the food culture of Azerbaijan, collecting and testing recipes from various regions of the country, as well as photographing the dishes.
All the efforts became amply rewarded as Gourmand World Cookbook Awards announced "Pomegranates and Saffron: A Culinary Journey to Azerbaijan" the winner in Eastern European Cuisines cookbook category among the books published in the U.S.
This qualifies the cookbook to compete against the winners in the same category from other countries at the Gourmand Best in the World competition to take place in Yantai, China, in June, 2015.
--
Nigar Orujova is AzerNews's staff journalist, follow her on Twitter: @o_nigar
Follow us on Twitter @AzerNewsAz