Azerbaijan, Iran relations at high level: Iranian official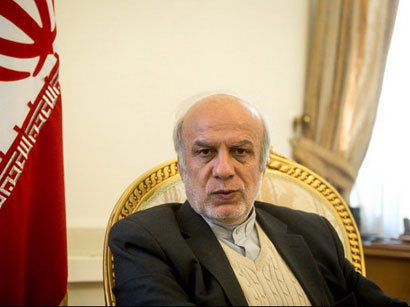 By Sara Rajabova
Iranian deputy foreign minister and special envoy for Caspian Sea diplomacy believes there's a need for regular consultations between Iran and Azerbaijan.
"Some 22 years has passed since Azerbaijan gained independence; during this period, the relationship between our countries has developed unevenly. But now these relations are balanced and are at a higher level that satisfies both sides," Ebrahim Rahimpour told Trend news Agency.
Rahimpour said strengthening the position of Azerbaijan on an international level created the conditions for the development of the country's relations with other countries, including Iran.
Touching upon the relations between the countries in the political sphere, Rahimpour said they are at a high level, and Iran and Azerbaijan support each other in solving all sorts of issues related to bilateral relations and regional and international processes.
Iran and Azerbaijan, together with other countries in the region, can cooperate in ensuring regional security, Rahimpour said.
Due to the fact that various events occur in the region, there is a need for regular consultations between Iran and Azerbaijan, he added.
Azerbaijan and Iran have had diplomatic relations since 1918. Iran recognized Azerbaijan's independence in 1991, and diplomatic relations between the two countries were established in 1992.
Data from the State Customs Committee of Azerbaijan shows that trade turnover between the two countries amounted to $281.03 million in 2013, which is 6.13 percent higher than 2012. The figure stood at $263.785 million in 2012.
Iran imported $73.347 million worth of goods from Azerbaijan in 2013, while its exports to Azerbaijan stood at $207.683 million during the same period.
Iran's trade turnover with Azerbaijan in the first eleven months of 2013stood at $470 million ($448 million exports and $22 million imports), Iran's customs administration's latest report shows.
The statistics of Iran's customs administration are based on the official rate of rial/USD which is different from the free market rate.