7 June 2013 15:55 (UTC+04:00)
1 056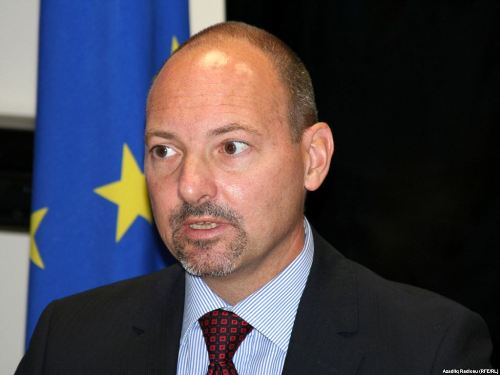 By Nigar Orujova
Head of the EU Delegation to Azerbaijan Roland Kobia has said there is huge potential for cooperation between Azerbaijan and the European Union.
Kobia said at the "EU, Azerbaijan security and integration" international conference in Baku on June 7 that Azerbaijan and the EU have an excellent relationship in the area of energy security.
However, he added, the bilateral cooperation goes beyond energy.
Azerbaijan is at the crossroads of different civilizations and economic, social and religious models, Kobia said, noting the importance of visa facilitation between Azerbaijan and the EU.
"We want to bring our populations closer to each other, and to get to know each other better," Kobia said.
He went on to say that a facilitated visa regime would allow Azerbaijani citizens to travel to the EU easier.
Azerbaijan and the EU are preparing to sign an agreement on easing the visa regime during the third summit of the Eastern Partnership program in Vilnius on November 28-29.
In May, Kobia said both the course of negotiations and the expected liberalization of visa regulations are clear examples of successful and effective EU-Azerbaijan cooperation.
Azerbaijan and the EU launched official negotiations on visa facilitation in March 2012 in Baku.
The agreement on the simplification of visa entry for citizens of Azerbaijan provides for a reduction of the list of documents submitted along with the visa application and the possibility of issuing multiple entry visas with a longer validity period, thus reducing the cost of visas or even making them free for particular categories, and envisions time limits for processing an application.
Addressing the event, Director of the Center for Strategic Studies under the President of Azerbaijan, Farhad Mammadov, said that the EU has started to be more active in the South Caucasus.
Chief Executive of the European Policy Centre Hans Martens, in turn, spoke about the financial crisis in Europe.
Martens also spoke about the considerable development he observed in Azerbaijan.
"There was almost nothing in Azerbaijan 15 years ago. However, today we are witnessing development here," he said.
The Baku conference was organized jointly by the Center for Strategic Studies and the European Policy Centre.
The event was followed by panel meetings. Speakers of the "Bringing South Caucasus Closer to Europe: Achievements and Challenges" panel included Roland Kobia, Ambassador of the Eastern Partnership Vaidotas Verba (Lithuania), Caucasus Research Resource Center's Director for Azerbaijan Gursel Aliyev and Editor-in-Chief of Caucasus International Journal Zaur Shiriyev.
Related News