Head of Iraqi Kurdistan Region acquainted with Icherisheher and Heydar Aliyev Centre [PHOTOS]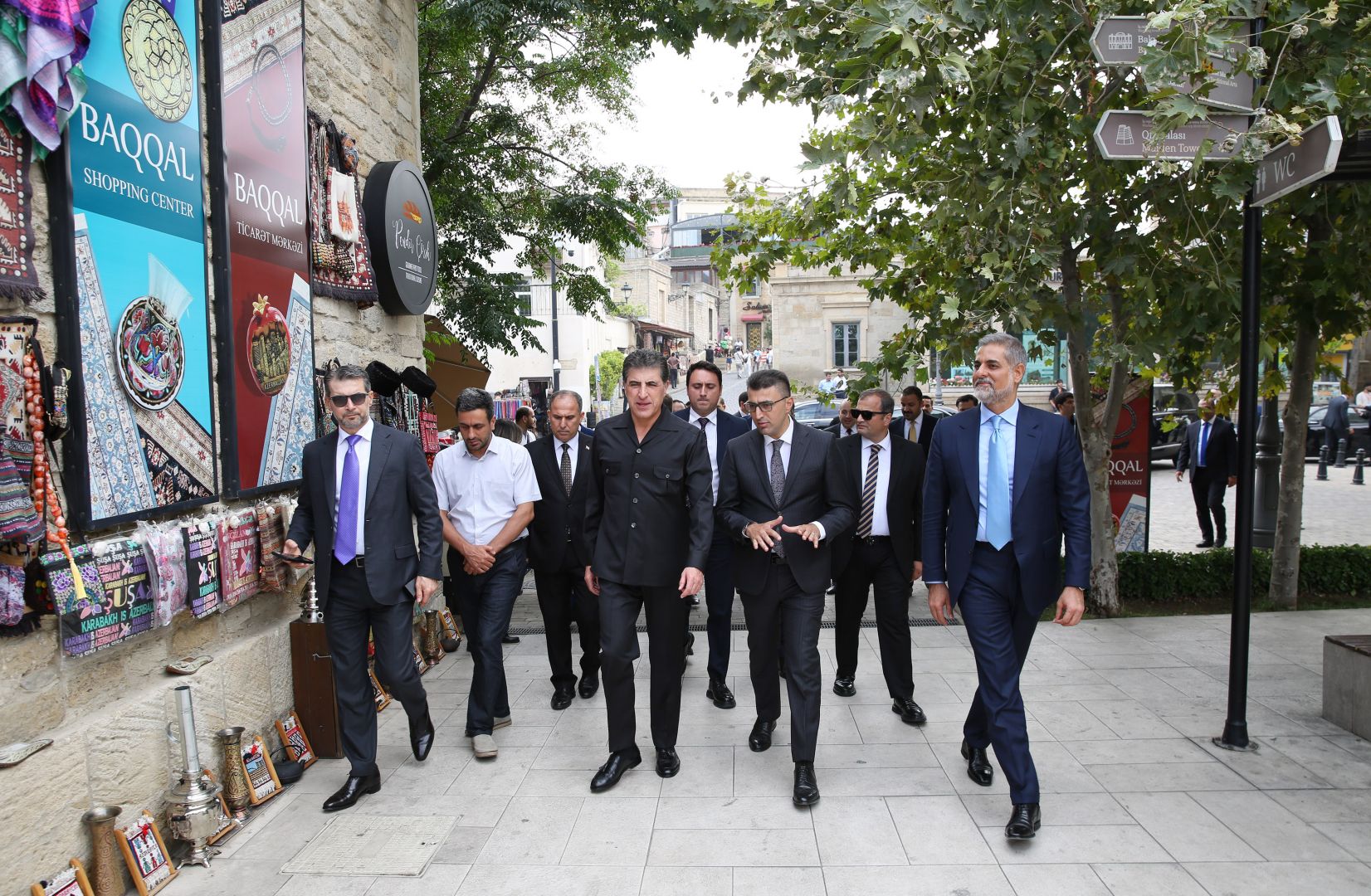 Head of Iraqi Kurdistan Region Nechirvan Barzani acquainted with Icherisheher and Heydar Aliyev Centre
The delegation led by the head of Iraqi Kurdistan, Nechirvan Barzani, in a meeting with Shahin Seyidzade, chairman of the board of the State Historical-Architectural Reserve "Icherisheher", got acquainted with Icherisheher, which is one of the monuments of world cultural heritage, within the framework of a working visit to Azerbaijan on 18 July. The walk around Icherisheher started from the fortress gate, Azernews reports.
First, the guests got acquainted with the underground bathhouse dating back to the XVII century and the Art Centre in Icherisheher.
During the electric car ride, the delegation members were informed about the State Historical-Architectural Reserve "Icherisheher", and the improvement and restoration works done here. It was noted that unique historical architectural monuments belonging to different centuries protected by the state are located on the territory of Icherisheher.
Having tasted bread just baked in the 'tendir', the guests were familiarised with the masterpiece of medieval oriental architecture, an architectural monument of world significance - Shirvanshahs Palace complex in Icherisheher.
It is noted that the structures of the historical monument, built in the early 15th century, are located at the highest point of one of the hills of Icherisheher. The monument is clearly visible from the sea and the surrounding heights. The complex retains its historical and architectural advantage to this day.
The guests were also informed about the history of the Maiden Tower Monument, considered one of the symbols of Baku. It was emphasised that the Maiden Tower, erected in the VII-VI centuries B.C., was restored in the XII century. The cylindrical monument with a height of 28 metres and a diameter of 16-16.5 metres consists of the tower itself and a supporting structure adjoining it from the southern side. Conservation works were carried out in the Maiden Tower in 2009-2013 on behalf of President Ilham Aliyev to preserve this monument of world significance and pass it on to future generations in its present form.
The stone exposition newly organised on the territory of the religious-architectural complex of Syrataghli near the Maiden Tower aroused great interest among the guests.
Familiarisation with Icherisheher made a pleasant impression on the Iraqi guests.
---
Follow us on Twitter @AzerNewsAz