Israeli media publishes interview with Azerbaijani ambassador to US on Azerbaijan-Israel relations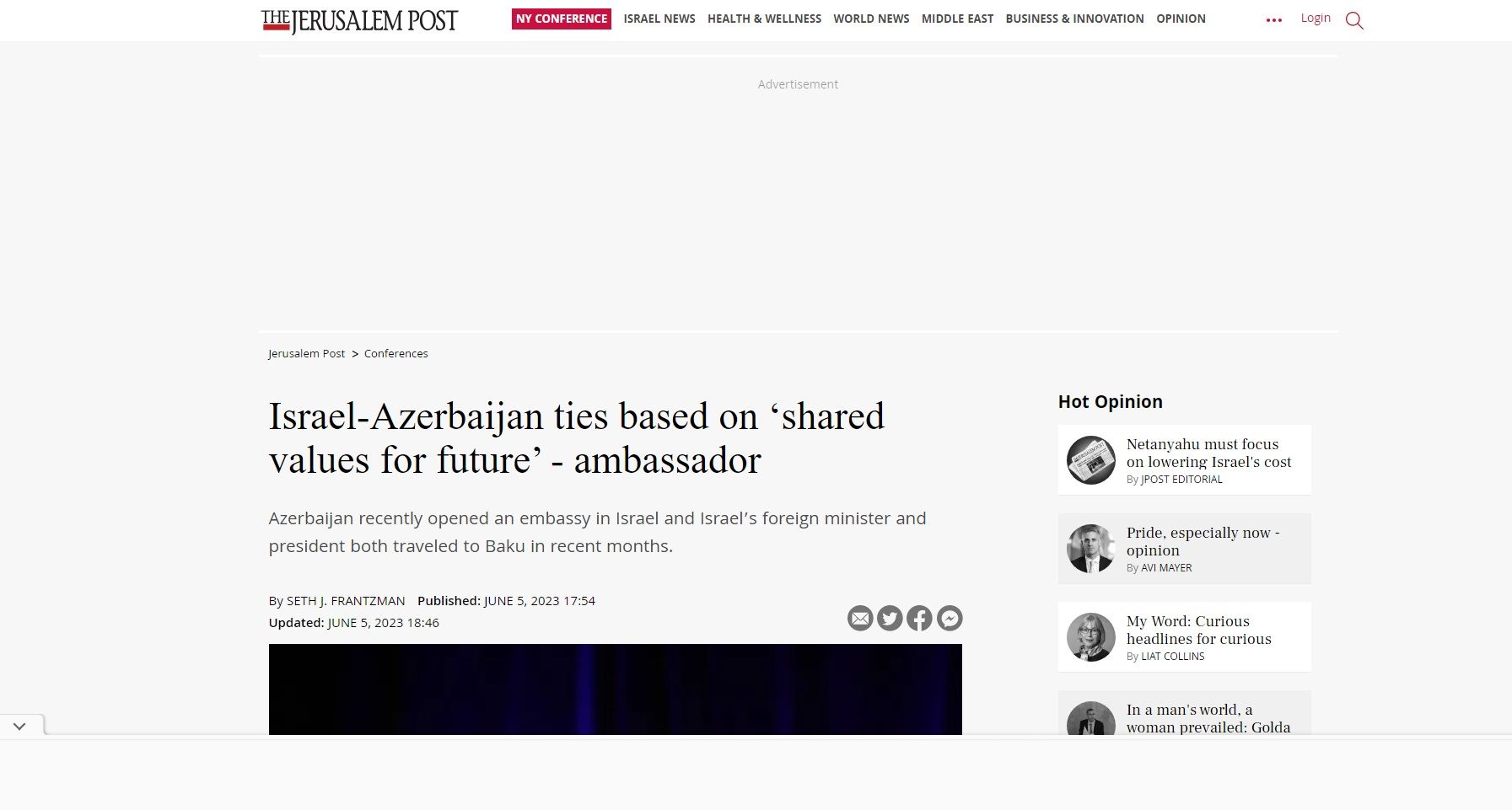 An interview with Azerbaijani ambassador Khazar Ibrahim on Azerbaijan-Israel relations has been published on The Jerusalem Post. In the interview, the Ambassador has touched on partnership that involves a number of important aspects, including cybersecurity, energy supply that meets half of Israel's needs.
Azernews presents the full interview:
Israel-Azerbaijan ties based on 'shared values for future' - ambassador
Azerbaijan is a strategic partner of Israel and the countries have been bolstering ties over the last three decades, Khazar Ibrahim, Ambassador of the Republic of Azerbaijan to the United States, said at The Jerusalem Post Annual Conference in New York on Monday.
This is a partnership that involves a variety of important aspects, including cybersecurity, and Baku's export of oil and natural gas which now accounts for half of Israel's demands. "It's not only business, this is how we believe friends should and must act," said Ibrahim.
Azerbaijan recently opened an embassy in Israel and Israel's foreign minister and president have both visited Baku in recent weeks. Ibrahim characterized the opening of the embassy as a huge jubilation and compared the process of diplomacy to cuisine, calling the ties "slow cooked," meaning they benefit from the long build-up leading to this year.
"It's clear Israel Azerbaijan partnership strategic and cooperation are on national interest and shared values for the future. It is not intended against any country. So if somebody has wrong calculations or ill-intentions it is not our fault."
- Khazar Ibrahim
Azerbaijan-Iran tensions
Azerbaijan-Iran tensions have grown in recent months, in the wake of an attack on Azerbaijan's embassy in Tehran and an assassination attempt against a member of Azerbaijan's parliament. The ambassador pointed out that there has been no official reaction by Iran to the attack on the embassy.
"Iran is trying to blame us on many things," said Ibrahim. "It's clear [that the] Israel-Azerbaijan partnership is on national interest and shared values for the future. It is not intended against any country. So, if somebody has wrong calculations or ill-intentions it is not our fault."
The ambassador was interviewed by Maayan Hoffman, the Deputy CEO for Strategy and Innovation at the Post. He was asked about recent cyber security cooperation and said Israel and Azerbaijan have vast cooperation in many areas.
He also noted that the Technion has helped establish a Cyber Security Center in Azerbaijan. "It is significant, we are learning from the best and Israel is the best and with this center, Israeli friends will help us train 1,000 specialists in three years in cyber security," he said. The goal is to train the trainers, he noted. This means these specialists will go on to train locals.
Baku is also currently playing a key role not only in providing Israel with natural gas and oil, but also supplying Europe and the EU, the diplomat said. He estimates that by 2027 Azerbaijan can double those natural gas exports.
"On top of it we are working on renewables," he said. This includes investment in wind and solar and Azerbaijan is developing an undersea cable for electricity that will run through Georgia, under the Black Sea to Romania and Hungary.
Ambassador Ibrahim also praised Israel and Azerbaijan for being responsible international actors. He said the partnership and cooperation with Israel is not intended against anyone, "it is a common future vision and values," he said.
He also mentioned the importance of the Jewish community of Azerbaijan, which he said was the second most ancient community outside Jerusalem and the largest in the Muslim world.
"Long live friendship between Azerbaijan and the state of Israel," he said.
---
Follow us on Twitter @AzerNewsAz