Official reception held in honor of President Ilham Aliyev [PHOTO/VIDEO]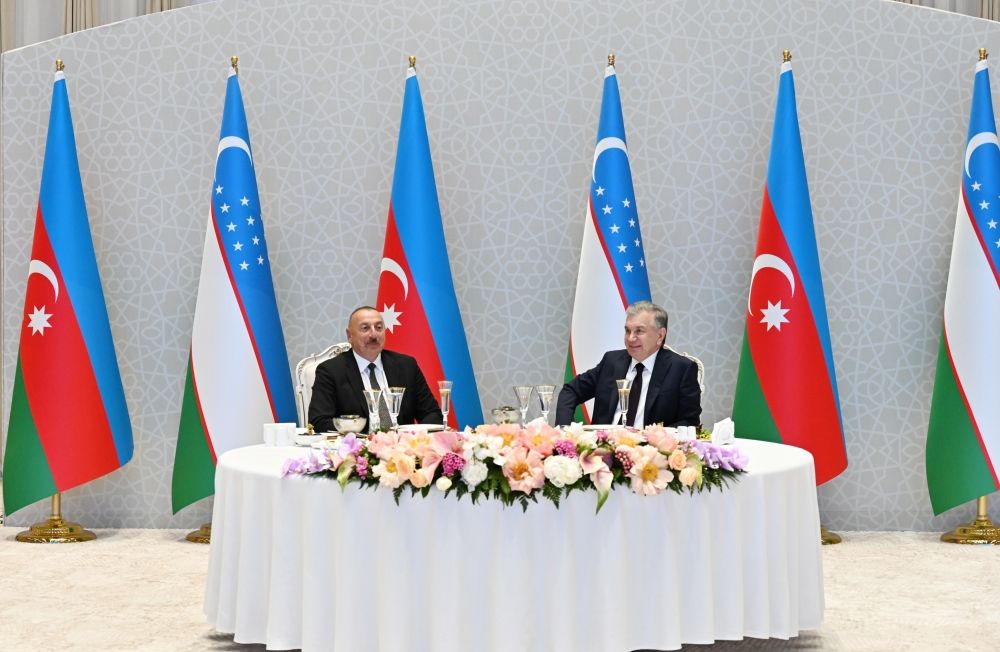 An official dinner has been hosted on behalf of President of the Republic of Uzbekistan Shavkat Mirziyoyev in honor of President of the Republic of Azerbaijan Ilham Aliyev at the Kuksaroy residence, Azernews reports citing Azertac.
The event then featured a concert program.
Then Presidents Ilham Aliyev and Shavkat Mirziyoyev talked to people of art.
President Shavkat Mirziyoyev: This is our first meeting. We will go to Azerbaijan. Days of Culture will be held first in Azerbaijan and then in Uzbekistan. We have agreed to award both Azerbaijani and Uzbek artists with the titles of People's Artist of Azerbaijan and Uzbekistan on Independence Day. However, the jury has decided that the first candidate is Nasiba khanim.
President Ilham Aliyev: I am very pleased to be visiting brotherly Uzbekistan today. My brother Shavkat Miromonovich and I have been together all day today, and at the end of the day you made us happy, i.e. you made us happy with your art, your music, the beautiful performance of Azerbaijani and Uzbek songs.
Our religion, language and culture are the same. We have common roots. Today, this unity is before our eyes, and we must perpetuate this unity. Thank you, thank you very much. I am inviting all of you to Azerbaijan. We are ready to welcome you to Azerbaijan. We will be very happy to see you.
Art Masters: Thank you very much. Welcome!
President Shavkat Mirziyoyev: My dear brother, our dear guest is visiting Uzbekistan today. In general, my brother's visit is a historic one. Our first event was the opening of a square, a street and a monument named after the national leader of the Azerbaijani people, Heydar Alirza oglu Aliyev. This is our history, the embodiment of our sincere friendship.
There are many achievements that embody our friendship. It is very valuable when we are spiritually and morally close to each other. It does not matter to us whether it is Azerbaijan or Uzbekistan. We have a great common history.
Welcoming the head of state, the Chairperson of the Senate of the Oliy Majlis of Uzbekistan, Tanzila Norbaeva, said: Please pass on my greetings to Mehriban khanim.
President Ilham Aliyev: Thank you. I will.
Tanzila Narbayeva: We know her very well.
--
Follow us on Twitter @AzerNewsAz