13 December 2013 16:37 (UTC+04:00)
2 151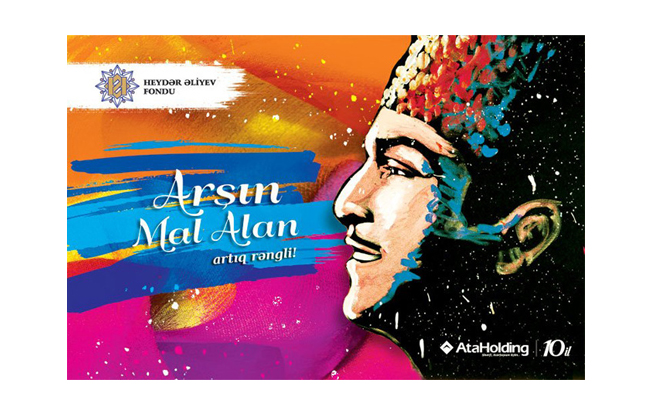 By Nigar Orujova
A restored and colored version of Azerbaijani legendary movie "Arshin mal alan" ("The cloth peddler") will appear before the Azerbaijani public from December 13.
The well-known film is now available at the Park Cinema movie theater.
A gigantic work was performed at the Hollywood studio to give the audience possibility to see the legendary movie in its original look, which is the uniqueness of the project. This restoration is a contribution into preservation of the Azerbaijan national cultural heritage for future generations.
The restoration works started in December 2012 to throw the film into good form in connection with the 100th anniversary of the same-named operetta by great Azerbaijani composer Uzeyir Hajibayli, on which the film is based on.
New screen life was given to the popular movie on the initiative of the Heydar Aliyev Foundation.
The film was directed by Reza Tahmasib and Nikolai Leshenko and shot in black and white version in 1945 when the colored version was available only to capture the Victory Parade on the Red Square in Moscow.
However, the format could not spoil the film, and it became more successful than planned. The film was watched by over 16 million viewers during the first 45 days of airing, and earned 1,000 times more than the cost of shooting only in internal airing.
A number of versions of the movie have been made based on the operetta, however, the 1945's version is considered as the most successful one.
The movie "Arshin mal alan" has been shown in 136 countries and dubbed in 86 languages so far.
The number of people that worked over the restoration of the film exceeded the number of people who actually shot it back in 1945. The work was taking place in four countries of the world.
The original sound was also restored and remastered to the maximum possible level together with the music of Hajibeyli and the magical voice of singer Rashid Behbudov, who launched his acting career with this film starring as Askar.
The plot is centered on a young man named Asker who wants to see and choose his bride himself before marriage. Doing so, however, was difficult at that time because women were traditionally kept at home, and were heavily covered in hijabs when they went outside.
Asker's friend Suleyman suggests that he should dress up as a fabric peddler and go door-to-door, selling fabrics in order to meet women.
Asker falls in love with Gulchohra and asks her father, the wealthy Sultan bey, for her hand in marriage. Sultan bey agrees, but Gulchohra objects, because she is in love with the peddler. Eventually, she realizes that the rich businessman Asker is actually her beloved peddler and they get married.
The movie satirizes social practices and traditions, particularly those related to the cumbersome practice of women wearing veils, and the consequences this practice had on the relationships between men and women.
Related News