Azerbaijani actors to tour to Russia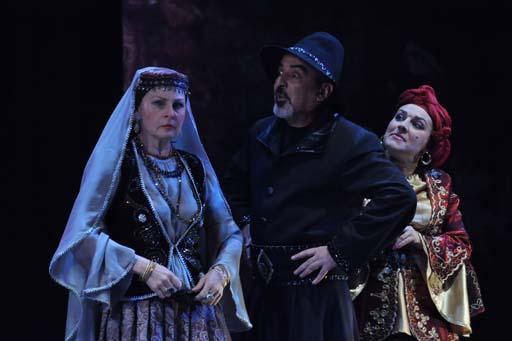 By Laman Ismayilova
Troupe of the Azerbaijan State Russian Drama Theater will leave for Russia.
The troupe will visit the cities of Smolensk, Pskov, Velikie Luki from October 30 to November 9, Trend Life reported.
The tour will organized in the framework of the project of the Federal Center for Support of Touring Activities of the Ministry of Culture of Russia.
The repertoire of the tours includes a play by Mirza Fatali Akhundov "The Botanist Monsieur Jordan and the Sorcerer-Dervish Mastali Shah" as well as a play by the contemporary Russian dramatist Pyotr Gladilin "Athenian Evenings".
The performances were staged by theatre director, People's Artist Alexander Sharovsky.
Azerbaijan Drama Theatre was first established on December 20, 1920, as the "State Free Satirical Agitational Theatre", however on April 29, 1921, it was renamed as the "Baku Workers' Theatre".
In 1937 the name was changed to "Azerbaijan State Red Banner Theatre of Russian Drama". Since 1938, it is named as the "Azerbaijan State Russian Drama Theatre". In 1956, the theater was additionally named after the Azerbaijani poet Samad Vurgun.
Many works of Russian literary figures such as Tolstoy, Pushkin, Chekov, Gogol, Lermontov, Mayakovsky, Lavrenyov, as well as Azerbaijani literary figures such as Jafar Jabbarli, Mirza Fatali Akhundov, Ali bey Huseynzade, Najaf bey Vazirov, Huseyn Javid, works of world classics such as Shakespeare, Schiller, Molière, Dumas, Hugo, Balzac, are staged in the theatre in Russian.
The theatre makes performances not just for adults, but for children too.
---
Laman Ismayilova is AzerNews' staff journalist, follow her on Twitter: @Lam_Ismayilova
Follow us on Twitter @AzerNewsAz