6 August 2015 13:02 (UTC+04:00)
1 617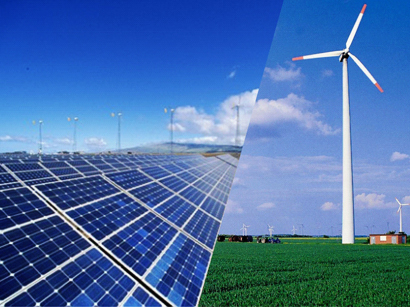 By Gulgiz Dadashova
Feasibility study on two projects related to the renewable energy will be completed by late 2015, Jamil Melikov, the deputy head of Azerbaijan's State Agency for Alternative and Renewable Energy Sources told Trend.
"Jointly with German KfW development bank, we are working on the project for creating a wind farm with the capacity of up to 80 megawatt in Azerbaijan," he said.
Moreover, joint work is underway with the Asian Development Bank on the project to construct power plants in Oguz and Agjabedi regions, Melikov said, noting that the work on both projects runs on schedule.
"Within the feasibility study, we determine which equipment and resources are needed to implement these projects. We will determine the economic feasibility of these projects at this stage," he explained.
Melikov added that the cost of the projects, as well as the production capacity of the wind farm and power plants will be determined at this stage.
The ADB project is aimed at promoting the development of renewable energy sources in Azerbaijan by implementing two pilot projects on biomass for efficient electricity and heat supply to Oguz and Agjabedi regions.
The project stipulates construction of two power plants in Oguz and Agjabedi , to create electricity and heat supply systems, as well as supervise the implementation of the project, including consulting services on controlling the project.
KfW project envisages creating a combined wind and solar farm for renewable energy. The project is aimed at increasing the share of renewable energy sources in the total volume of electricity production in the country and ensuring continuous and effective use of resources.
Currently, the capacity of Azerbaijan's electricity system is about 7,200 megawatt.
The total potential of alternative and renewable energy sources exceeds 12,000 megawatt in the country. The major part of the country's potential in this sphere accounts for solar energy and this potential is estimated at 5,000 megawatt.
Wind energy accounts for 4,500 megawatt, biomass – 1,500 megawatt, geothermal energy – 800 megawatt and the remaining 350 megawatt accounts for the small hydro power plants.
It is planned to construct up to 100 facilities for generating alternative electricity in Azerbaijan within 5 years, the preliminary studies said.
The volume of investments made in the development of the alternative energy sphere in the country reached 63.6 million manats in 2014.
--
Follow Gulgiz Dadashova on Twitter: @GulgizD
Follow us on Twitter @AzerNewsAz
Related News