Azercell launching new Internet Roaming Pack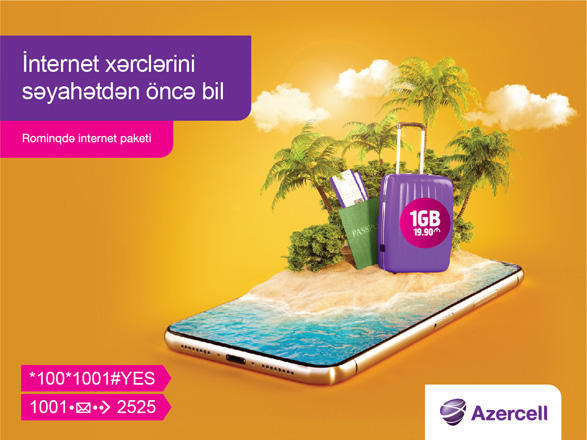 By Trend
Azercell is launching a new Internet Roaming Pack, to eliminate high and unpredictable costs for data-hungry consumers using mobile services while abroad. The company will continue introducing roaming initiatives across all over the world starting with Europe on September of 2018.
"We want to encourage our customers to use data services wherever they are when on international travels. There shouldn't be any reason for Azercell subscribers not to use mobile data services also when they are abroad,'' says Vahid Mursaliyev, CEO of Azercell. "The move from voice to data is on and we need to deliver affordable, simple and predictable data services to our customers when travelling. I am pleased to announce that Azercell is moving ahead and will take a leading position on this widely and long-debated topic."
In many parts of the world, it is a common practice for customers travelling abroad to simply switch off data roaming as a result of high and varying data roaming retail rates, as well as unpredictable bills. Almost half of Azerbaijan citizens would never use mobile data abroad, according to European Commission figures. Some 90 per cent of them limit their use of basic services like e-mails, whereas more than 25 per cent prefer to switch off their smartphone when abroad.
These statistics are also visible in Azercell's figures. Currently, a mere average 30 percent of Azercell's data usage customers is using data roaming when travelling abroad. Azercell aims to increase data roaming usage to 80 per cent or more by the end of 2019.
Azercell's Internet Roaming Packs are based on three pillars:
o Affordability (affordable and predictable prices. No need to switch data roaming off)
o Cost control (no surprises. You know what you pay – with default price pack)
o Simplicity (capped and well-known prices).
Azercell presents comfortable and affordable offer in the field of roaming solutions. From the 2nd of July Azercell starts offering Azerbaijani consumers a 19.9 AZN 1GB data pack for 14 days covering Turkey, Russian, Georgia, Ukraine, Kazakhstan, Kyrgyzstan, Tajikistan, Uzbekistan, Belarus and Moldova. This means that an Azercell customer travelling to Turkey for one week will get 1GB for 19,90 AZN, which compares with more than 500 AZN with the price cap of 0.55 AZN/MB as per pay as you go charges.
"It's about time we really do an effort on making roaming attractive for our customers. Roaming is the essence of what mobile communications is all about, being mobile.
We will continue to be innovative, strive for attractive solutions and place our 4,5 million customers at the core of our decision making,'' says Vahid Mursaliyev.
For more information, please visit:
https://www.azercell.com/en/personal/roaming/internetroaming/
For more information, please contact [email protected]
The leader of the mobile communication industry, the largest taxpayer and the biggest investor of the non-oil sector of Azerbaijan Azercell Telecom LLC was founded in 1996. With 48% share of Azerbaijan's mobile telecom market Azercell's network covers 80% of the territory (excluding 20% of the occupied territories) and 99,8% of population of the country. Currently, 4,5 million subscribers choose Azercell services. Azercell has pioneered an important number of innovations in Azerbaijan, including GSM technology, advance payment system, mobile internet services, Metro coverage, 24/7 call centre service, 7 day/week Front Office service, M2M services, one-stop-shopping approach Azercell Express offices, mobile customer services, Online Customer Care and Social Media Customer Care services, mobile e-signature service "ASAN Imza" etc. Azercell deployed first 4G – LTE services in Azerbaijan in 2012. According to the results of mobile network quality and wireless coverage mapping surveys by international systems, Azercell's network demonstrated the best results among the mobile operators of Azerbaijan. Azercell is the only company in Azerbaijan and CIS region which has been awarded Gold Certificate of International "Investors in People" Standard.
---
Follow us on Twitter @AzerNewsAz