6 February 2015 10:00 (UTC+04:00)
2 324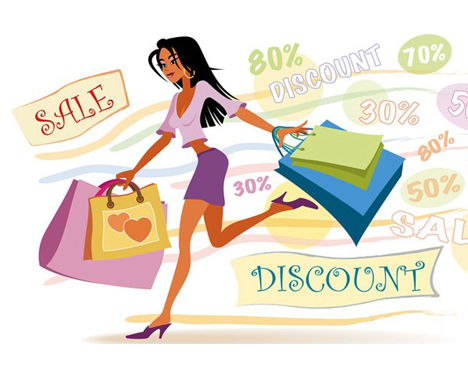 By Nigar Orujova
Sale is the sweetest word for women, men and even children today, but mostly for women.
People can buy anything on sale, from item they really need to something unnecessary but on a good discount. In Azerbaijan, sales are usually made on the end of each season or on special occasions.
The nine million population of Azerbaijan spent about 2 billion manats on the New Year eve this year. The half of this money was spent to buy food for the holiday table. But still, one billion manats on a holiday is quite a big sum. And the sum increases annually.
What have we bought? Souvenirs and clothes, traditional New Year presents, which all were on sale from early December until the January end.
More holidays are waiting us in February and March, which means new discounts and thousands of people in each and every store.
Experts tend to believe that sales in Azerbaijan are mostly deceivable. Moreover, crowds of people are aware of this fact, but still try to buy as much as possible. This may be the result of the soviet past, when there was a deficit of products and clothes.
Aygun is a 29 year old shopaholic who cannot walk by the sign "SALE" on the shop-window. On the New Year Eve, she bought a lot of clothes for her relatives and friends. However, most part of her New Year purchasing was blouses, skirts and accessories.
"Prices are usually higher in Baku, so I try to buy as much as possible during discounts. At the end of every sale, it turns out I spent much more money than expected. But I can do nothing about it, I am a sale addict," she noted.
Today, most of the customers know about tricks during sales to get money out of their purse. The sellers will not operate at a loss, thus, discounts are included in the price of goods or services in advance.
Customers realize this fact, but continue to fall into the trap. And women like Aygun are the frequent victims.
Vugar Bayramov, Chairman of the Center for Economic and Social Development, says that there are also false discounts in Azerbaijan.
Discount prices never reflect reality, he said to a local press. "Sometimes shops make 50-60 percent discount, however, the prices are so high that these discounts are not felt."
It is prohibited in Azerbaijan to first artificially inflate the price, and then make discounts. Moreover, the new draft law on advertisement presupposes that advertising shall indicate the beginning of a sale campaign. In addition, the current price of a product and its previous price will be considered.
This will help people calculate the sum of their purchase before reaching the cash desk.
The costumer has the right to learn about the discount on each item, and could bring back the goods with check in 14 days.
Enjoy the discounts but do not lose your nerve on the eve of the Valentine's Day and March 8.
--
Nigar Orujova is AzerNews's staff journalist, follow her on Twitter: @o_nigar
Follow us on Twitter @AzerNewsAz
Related News