14 September 2016 17:40 (UTC+04:00)
3 158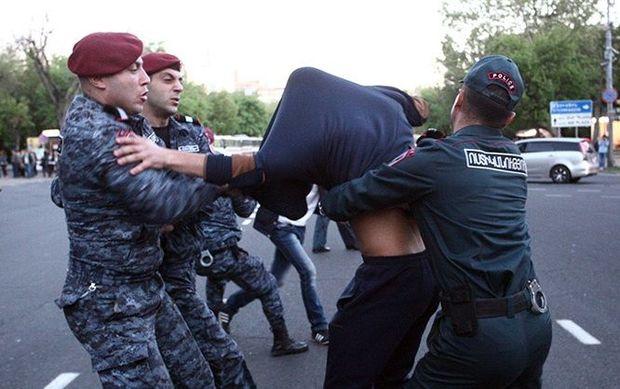 By Rashid Shirinov
The Organization of International Partnership for Human Rights (IPHR) is concerned about the likelihood that those responsible for excessive use of force during the July protests in Yerevan will not be brought to justice.
The organization voiced concerns in its report "Burnt, beaten and betrayed: Armenians awaiting accountability for police violence" prepared as a result of monitoring held in Yerevan from July 17 to 31.
During those days, members of the armed group Sasna Tsrer seized a police building in Yerevan's Erebuni district. This was followed by numerous actions of protest in support of the group in different parts of the capital – at Freedom square, on Khorenatsi street near the occupied police station, and in the area of Sari Tagh. As a result, the demonstrators were repeatedly subjected to violence by the police.
There are grounds to conclude that police officers specifically targeted the main leaders of the peaceful July 2016 protests, detained and charged them with "organizing mass disorders" in order to weaken and, ultimately, put an end to the protests, the report states.
The authors have studied evidence of eyewitnesses, photos and videos, physical evidence and medical records provided by victims. The victims stated that they were subjected to cruel beatings during the detention. The IPHR's report includes many stories about the police brutalities.
The Armenian authorities should take immediate and meaningful steps for establishment of justice and liability in connection with the offences registered during peaceful protests of July 17-30, 2016, the report emphasizes.
Going back to those events, on July 17 a group of armed men entered the territory of the Armenian police patrol department in the Erebuni district of Yerevan and took several people hostage. The attackers demanded the release of Armenian opposition figure Jirair Sefilyan, who was arrested on charges of illegal possession of arms. They also demanded resignation of Armenian President Serzh Sargsyan.
Following the long-lasting talks, the armed group on July 23 released all of the hostages. Nevertheless, they refused to lay arms down and surrender to the authorities. On July 27, the group took new hostages. They were four ambulance doctors who arrived at the police station to assist the wounded in the shootout between the police and Sasna Tsrer members. By July 31, they were also released, and the armed group surrendered. The two-week seizure took lives of two Armenian police officers.
From the first day of the seizure, Armenian people started their protest actions against authorities by gathering on Yerevan's streets. Following the rally in Sari Tagh district of Yerevan, the police brutally dispersed the protesters and arrested 165 people. As a result, 73 citizens addressed medical institutions with injuries of varying degrees of severity.
Related News