24 April 2015 12:49 (UTC+04:00)
1 224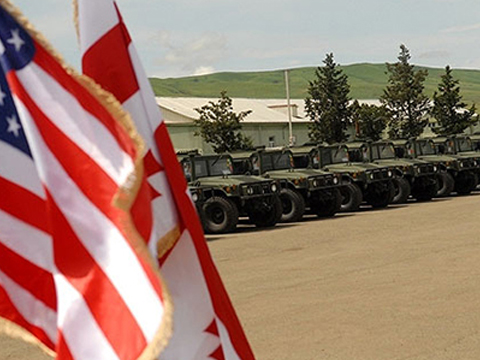 By Mushvig Mehdiyev
The Georgian and the U.S. officials discussed current and future defense and security cooperation, as well as regional and multilateral security issues in a special meeting on April 23.
The enhancement of Georgia' security and defensive capabilities and the country's NATO integration were at the forefront of talks, according to Georgia's Foreign Ministry.
Building solid relations with NATO is of great significance for Georgia as part of its state policy to strengthen the country's defensibility.
Georgia has recently implemented major defense reforms to prove it can operate effectively alongside the military alliance's forces. NATO has repeatedly welcomed Georgia's progress in its defense transformation. The alliance called on Georgia to share its successful reforms with other nations, and the U.S. expressed its support for Georgia in this mission.
NATO attaches special attention to Georgia viewing the country as one of its future members. Regular mutual visits at top official level serve NATO's interests to ensure sustainable support to Georgia, as to help the country develop its military infrastructure and skills.
Top NATO Commander, Philip Breedlove said it was essential for the United States to train, advise and equip Georgian national security officers, as the country and the region focus on maintaining regional stability and security.
He claimed that the post-Soviet nations, including Georgia, which aspire to join NATO must be allowed to continue and accelerate their transition from the Soviet-era system to the modern NATO-interoperable system and equipment.
Georgia has recently presented its Annual National Program 2015 to NATO member-states and the bloc's allies in a special meeting at the NATO headquarters in Brussels.
In a special statement, Georgia's Ministry of European and Euro-Atlantic integration said the NATO allies expressed their gratitude for Georgia's significant contribution to the NATO peace operations and for its "firm readiness to engage in ensuring global security".
Meanwhile, the U.S. and Georgia will hold joint exercises, titled "Noble Partner", on the territory of Vaziani military air field and military firing-ground near Tbilisi on May 11-25.
The goal of the Nobel Partner drills will serve to the convergence of the Georgian military with the NATO Rapid Reaction Force, as well as serve as a platform for participating in future operations and drills of NATO.
- - -
Follow Mushvig Mehdiyev on Twitter: @Mushviggo
Follow us on Twitter: @Azernews
Related News