30 March 2015 16:54 (UTC+04:00)
1 893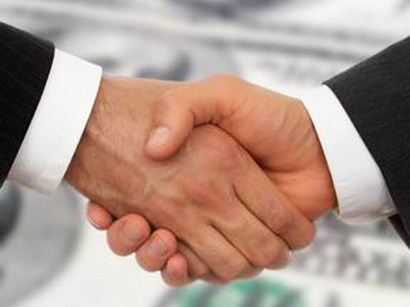 By Nigar Orujova
A new agreement is needed to be signed to expand the trade relations between the European Union and Azerbaijan, the EU told Trend on March 30.
The EU press service was commenting on the issue related to the development of the trade-economic relations between the sides.
"The EU is Azerbaijan's first trading partner representing 42.4 percent of Azerbaijan's total trade," the press service said. "Bilateral EU-Azerbaijan trade was growing in the past years and the EU and Azerbaijan should further expand their commercial relations in the coming years.
The EU is Azerbaijan's biggest export and import market with respectively a 48.3 percent and 27.7 percent share in total Azerbaijan's exports and imports. EU exports to Azerbaijan consist mainly of machinery and transport equipment. EU imports from Azerbaijan cover mainly mineral fuels.
The EU-Azerbaijan bilateral trade cooperation is currently provided for by the EU-Azerbaijan Partnership and Cooperation Agreement in force since July 1999.
"In the area of trade, the PCA is a non-preferential agreement, the Parties grant each other MFN treatment with respect to tariffs and quantitative restrictions are prohibited in the bilateral trade," the EU said. "The PCA also envisages progressive regulatory approximation of Azerbaijan's legislation and procedures to the most important EU and international trade related laws and standards, which should lead to a better access of Azerbaijan's products to the EU markets."
Further diversification of Azerbaijan's economy, currently mainly based on the hydrocarbon sector, is necessary.
"In this respect, regulatory approximation of Azerbaijan's trade-related legislation and procedures with the international and EU laws and standards as well as further enhancement of the business environment to attract investment, foremost for the benefit of smaller companies, is essential," the EU said.
Negotiations on and conclusion of an enhanced bilateral framework agreement replacing the Partnership and Cooperation Agreement of 1999 with the EU, including on upgraded trade-related provisions would offer the possibility to pursue these objectives, the statement said.
"It would provide for a support of regulatory approximation and enhance a more rule based business environment. Azerbaijan's WTO accession would also contribute to achieve these goals," the press service noted.
Earlier, Deputy Foreign Minister Mahmud Mammadguliyev said instead of an association agreement, Azerbaijan put forward an initiative to conclude an agreement on the strategic modernization partnership with the EU. "This document is not a legal document. It is rather a program, a plan of action to ensure that expand our cooperation with the EU beyond energy cooperation. The agreement will determine new areas of partnership, such as education and other areas. Many aspects have been agreed. But some issues must be coordinated," he said.
The turnover between Azerbaijan and the EU countries amounted to over $14.6 billion in 2014. Exports to EU countries amounted to $11 billion 567.6 million, import - $ 3 billion 103.5 million.
Last year, the largest trade partners of Azerbaijan were Italy, Germany, Indonesia, Russia and Israel.
--
Nigar Orujova is AzerNews's staff journalist, follow her on Twitter: @o_nigar
Follow us on Twitter @AzerNewsAz
Related News