12 June 2018 19:30 (UTC+04:00)
2 847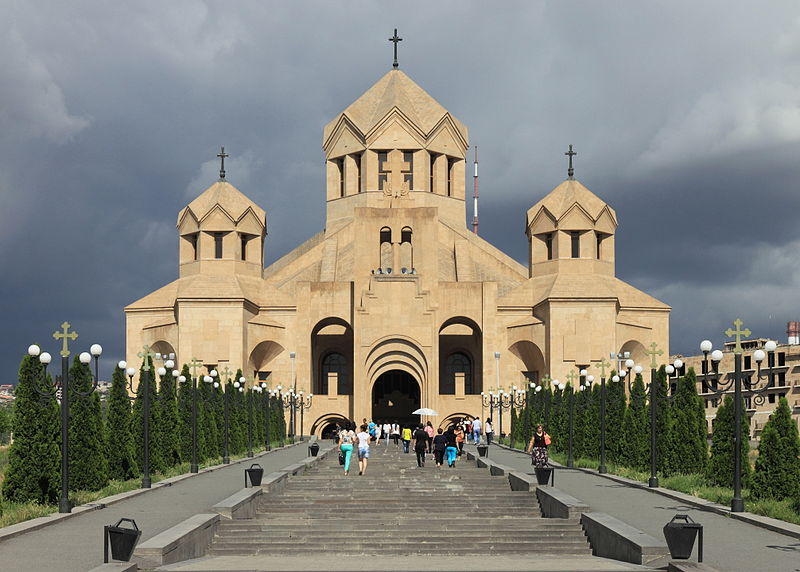 By Rashid Shirinov
The Armenian Apostolic Church (AAC), which has long earned a reputation in the country as a fraudulent organization, is going through bad times. The reason is that Armenia's population, which started protests two months ago in order to change the grave situation in the country, now protests against the leadership of the Church.
Since its establishment, the AAC has literally been inviolable, and today the Church is an autonomous structure within Armenia, which adheres to its own laws and influences the lives of Armenians.
However, the country's population is obviously tired of the AAC's current leadership, and therefore, people protest in Yerevan, demanding the resignation of the Catholicos of All Armenians Karekin II.
The Armenian believers have enough reasons to dislike their Catholicos. Some time ago, at the opening ceremony of a church in Armenia – the country that ranks first in the world in terms of the number of churches – Karekin II was asked whether it is right that churches are being built non-stop while the people in Armenia are starving. The Catholicos replied to the question cynically saying "people will satisfy their hunger through spiritual values."
Another scandal occurred in early April this year, when a Russian businessman gave Karekin II a heavy golden staff. In an open letter to the Catholicos, the Armenians expressed outrage at the demonstration of the present while a significant part of the population in the country is starving.
Moreover, some years ago an amount of more than $1 million was found at Karekin's account in a Swiss bank. This also shows the dishonesty of the Armenian Church.
The new wave of dissatisfaction with the Catholicos in the Armenian society started in social networks in late May. Citizens were urged to lock the doors of the Church and not to let the hated Karekin II enter the building.
However, it is doubtful that protests against the Catholicos will go far and lead to any serious consequences. Meanwhile, Karekin II is not worried about the situation and, as Bishop Arshak Khachatryan told journalists, is not going to leave his position.
The most interesting thing is that the Armenian government, to which the AAC does not obey, cannot remove Karekin II from his post. The Prime Minister Nikol Pashinyan has said that the state and the Church are separated in Armenia and the state should not interfere in the work of the Church. Thus, he made it clear to the population that their protests are meaningless and he cannot help them in this regard.
However, the activists from the Armenian population, who have earlier managed to overthrow Serzh Sargsyan and his Republican Party, do not give up and continue their protests against the Church with the hope of making Karekin II leave his position as well.
---
Rashid Shirinov is AzerNews' staff journalist, follow him on Twitter: @RashidShirinov
Follow us on Twitter @AzerNewsAz
Category News