21 December 2017 14:39 (UTC+04:00)
2 273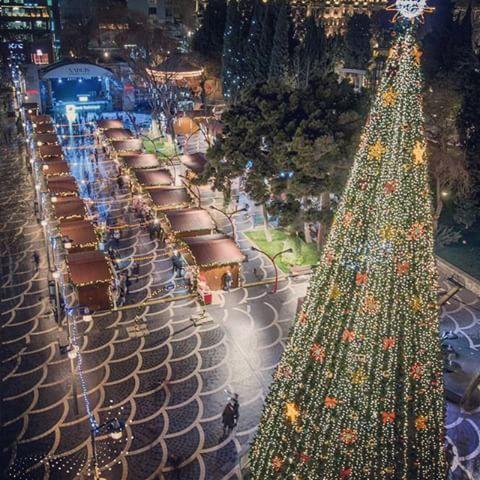 By Aygul Salmanova
The world is looking forward to passing over 2017 and embracing 2018! Take along your loved ones with you and complete what you left unfinished in the past year - visit Azerbaijan, medium-sized country in the Caucasus considered both part of Europe and Asia.
Most tourists visiting Azerbaijan on New Year holidays will come from Arab and CIS countries, the Chairman of the Association of Tourism of Azerbaijan Nahid Bagirov told Trend.
He noted that the tourist flow is expected mainly from Russia, Kazakhstan and Ukraine. "Recently there has been a trend towards an increase in the number of tourists from Ukraine, and this year a significant increase in the flow of tourists from this country to Azerbaijan is recorded," he said.
Bagirov added that compared to 2016, this year the number of tourists coming to the country for the New Year from Russia, Kazakhstan and Ukraine, will grow by 15-20 percent.
The chairman of the association believes that Gabala and Gusar regions will be among the most popular among the tourists of the regions of Azerbaijan arriving for the New Year.
Changes in the legislation of the country and the increase in the number of tourists have also affected the activities of tourism companies said the tourism expert Aydin Ahmadov.
He noted that the majority of tourists coming to Azerbaijan are from Arab countries. At the same time, there is an increase in the number of tourists coming from European countries, Russia and Turkey.
The expert noted that as the number of tourists coming to our country increases, it will not be possible to find vacant places in hotels on the eve of the New Year.
"As the number of tourists increases, it is difficult to find vacant rooms in hotels, for example, more than 90 percent of hotel rooms have been occupied in New Year's Eve, so there is a great need for new, especially 4-star hotels in Azerbaijan."
Experts noted that tourists from UAE, Qatar and Kuwait tend to prefer hotels in the city center in Baku, while Iraqi citizens prefer cheap hotels outside the city.
It should be noted that in January-October of this year, 2,276,604 foreign citizens visited Azerbaijan. The flow of tourists to the country increased by 20 percent for this year.
Of these, 727,577 people came from Russia, 439,305 from Georgia, and 320,904 from Iran.
During the mentioned period of time, some 81,742 citizens of the United Arab Emirates, 54,242 -citizens of Iraq, 49,449 tourists from Ukraine and 31,821-from Saudi Arabia visited Azerbaijan.
A sharp increase in number of tourists cannot but rejoice both the economy and the inhabitants of Azerbaijan, also known as the Land of Fires. Hotels, restaurants, recreation areas, and shopping centers filled up with foreigners and this shows the interest of tourists in a newly chosen destination.
--
Follow us on Twitter @AzerNewsAz
Category News