20 December 2017 17:58 (UTC+04:00)
2 902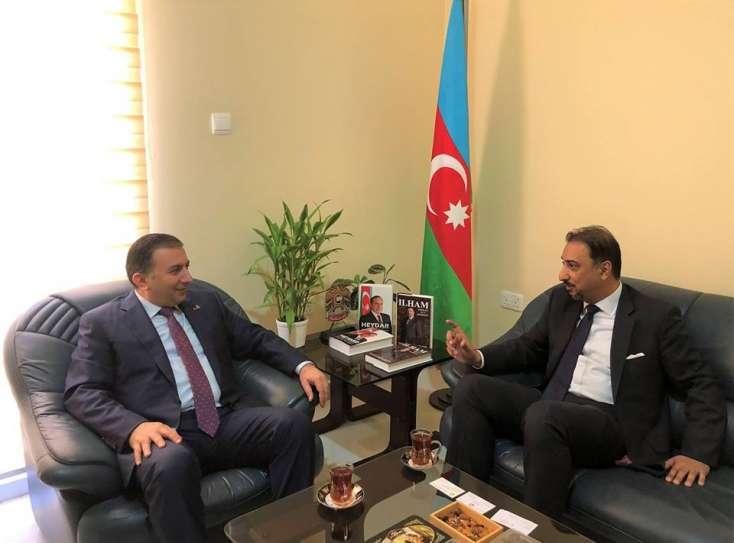 By Aygul Salmanova
Direct flights between Etihad Airways, considered to be one of the top ten world airlines, and Azerbaijan will be opened soon.
In the meeting held between Vice President of Etihad Airways Amer Khan and Azerbaijan's Ambassador to the United Arab Emirates Dashgin Shikarov, Khan has once again pointed out that the decision of Etihad Airways, which predominantly prolongs long-haul flights, to open Abu Dhabi-Baku flight from March 2, 2018, is a result of the initiative and numerous efforts of the embassy.
Shikarov touched upon the work done and the meetings held in connection with the opening of the flight, saying that previously the company was not interested in this direction. He said that it was a very pleasant event to discuss the raising of the attractiveness of flights to be carried out.
He noted that the day before the meeting, the embassy official had met with the company's government official and discussed the consulate and other issues that the embassy can provide.
Additional measures related to the opening of Abu Dhabi-Baku flights, the ceremonies to be held in Abu Dhabi and Baku on the day of the first flight and other issues were discussed at the meeting.
Etihad Airways, set up by Royal Decree in July 2003, commenced commercial operations in November 2003, and has gone on to become the fastest growing airline in the history of commercial aviation.
Etihad's fleet of 66 aircraft operates more than 1,000 flights per week, serving an international network of 84 passenger and cargo destinations in the Middle East, Africa, Europe, Asia, Australia and North America. Etihad Airways also owns nearly 30 percent of Air Berlin, Europe's sixth largest carrier and 40 percent of Air Seychelles.
The UAE is one of the first Muslim countries which recognized Azerbaijan's independence in December 1992, and after a short time diplomatic relations were established between the two countries.
Azerbaijan and the UAE enjoy fruitful cooperation in various fields and their mutual relations are developing both in the political, economic and cultural fields with ascending line. The two countries have a lot of similarities. In particular, Azerbaijan is the most stable and liberal country in the South Caucasus region, while the UAE - in the Middle East region.
Recently, the two countries agreed to establish a joint investment fund to facilitate the implementation of joint investment in mutually beneficial projects. The sides eye invest making in the areas that stimulate the growth of mutual investments and increase trade, particularly in agriculture, food processing, logistics and transport systems.
The overall trade turnover between Azerbaijan and the UAE for the past two or three years amounted to approximately $70 million, while the export from Azerbaijan to the Emirates increased by more than twice to $11.6 million.
--
Follow us on Twitter @AzerNewsAz
Category News