21 October 2015 12:30 (UTC+04:00)
1 432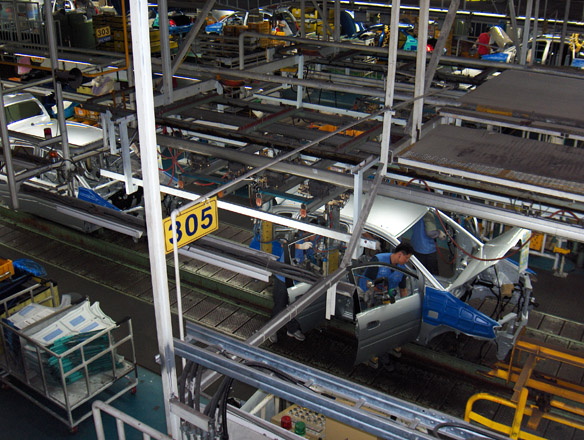 By Vusala Abbasova
The Turkish Science, Industry and Technology Ministry announced Turkey's willingness to export its domestically produced cars to Azerbaijan.
The country for the first time showcased a prototype of its new domestically produced car, modelled on Sweden's Saab 9-3, last week.
Moreover, the country is interested in the export of locally-produced cars to a range of foreign countries after their serial production, which will begin in 2020.
The development of a locally produced car in Turkey has entered a new stage since a government-supported Turkish group purchased the intellectual property rights for the second-generation Saab 9-3 in order to make a national car and to develop an extended-range electric car.
Earlier, Turkish Minister of Science, Industry and Technology Fikri Isik said that it would take five years and $1 billion to produce a prototype so buying the 9-3 rights made sense.
He also noted that the Scientific and Technological Research Council of Turkey (TÜBİTAK) has already completed three domestic car prototypes out of four and their testing has began in August.
Some changes are needed to make to the fourth prototype, but it will be launched within the next few months. The Turkish-origin cars, equipped with the latest technology, will appear on the road before 2020.
The minister also noted that they would strive to offer cars at the most affordable prices to domestic and international consumers before 2020.
Isik stressed that despite purchasing the Saab 9-3's intellectual property rights, the vehicle will have a Turkish brand, not Saab.
Power will come from gas and diesel engines, but the goal is an all-electric version of the sedan. Turkey plans to sell the still-unnamed car in Eastern Europe and the Middle East. It will likely not hit the shores of North America.
Turkey ranks sixth in Europe for the production of cars. The country assembles brands like Ford, FIAT, Renault, Toyota, Honda, Opel, Hyundai, Mercedes-Benz and MAN. Furthermore, BMC, Temsa and Otokar local buses are also manufactured in Turkey.
Turkey is the 27th largest export economy in the world and the 40th most complex economy, according to the Economic Complexity Index (ECI). In 2013, Turkey exported $164 billion and imported $225 billion, resulting in a negative trade balance of $60.6 billion.
The top export destinations of Turkey are Germany ($15.5 billion), Iraq ($11.9 billion), the United Kingdom ($8.92 billion), France ($7.7 billion) and Italy ($7.26 billion). The top import origins are Germany ($25.8 billion), China ($24.3 billion), Russia ($14.5 billion), Italy ($13.2 billion) and the United States ($12.1 billion).
The leading exports of Turkey are cars ($7.32 billion), refined petroleum ($5.01 billion), raw iron bars ($4.81 billion), vehicle parts ($4.59 billion) and delivery trucks ($4.27 billion).
---
Follow us on Twitter @AzerNewsAz
Related News