8 January 2019 17:53 (UTC+04:00)
1 234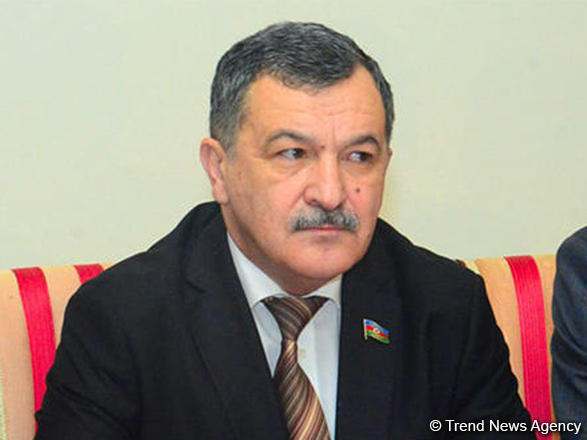 By Trend
The murder of a local resident by a group of Armenians in Kazakhstan's Karaganda on the New Year's night isn't just an incident, it is a result of very aggressive behavior of the Armenian community of Kazakhstan towards the local population, Aydin Mirzazade, an Azerbaijani MP, a member of the Azerbaijan-Kazakhstan group for inter-parliamentary relations, told Trend Jan. 8.
Despite that Armenians are engaged in business and public life in Kazakhstan, they don't hide aggression against the local population, as a result of which this murder occurred on the New Year's eve, said Mirzazade.
He stressed that the protests of local residents, their demands to expel representatives of the Armenian community from the country show that the Kazakhs are tired of tricks of Armenians.
"This is not the first time when representatives of the Armenian community show such attitude towards the population of a country they live in," he said. "We periodically encounter facts of murder, brutality of Armenians against the populations of the countries of their residence."
Mirzazade reminded that the Armenians, who were resettled by the Russian Empire to the Azerbaijani lands, later began to lay claims on those lands.
"By creating a state in the ancient Azerbaijani land, they subjected the Azerbaijanis to ethnic cleansing," he said. "Moreover, Armenia, by military aggression, occupied 20 percent of the territories of Azerbaijan."
On Jan. 1, on the New Year's night, a crime occurred in the Kazakh city of Karaganda in the "Ancient Rome" restaurant, owned by Armenians. A dispute arose in the restaurant between Armenians and Kazakhs, who gathered to celebrate the New Year. Then, the dispute escalated into a fight in the yard of the restaurant.
As a result, a Kazakh man, Rakhimzhan Zhanseit, was killed, and three Kazakhs received bodily injuries of varying degrees of severity.
Law enforcement agencies of Kazakhstan chose a preventive measure in the form of arrest in relation to two persons of Armenian nationality and one person of Kazakh nationality.
The killing of an ethnic Kazakh by an organized group of Armenians caused public outrage in Kazakhstan.
Information has been repeatedly published in the Kazakh media and social networks that Armenians don't show respect for the customs and traditions of Kazakhstan, are dismissive of the Kazakhs and seek to present themselves as a race of "Aryans."
Indeed, the Armenian organized crime groups in Kazakhstan are the "fifth column" in the country. Everyone perfectly remembers the ethnic cleansing and genocide against the Kazakh people committed during the Soviet period by the leaders of Kazakhstan of Armenian origin.
---
Follow us on Twitter @AzerNewsAz
Related News