9 January 2019 18:24 (UTC+04:00)
1 071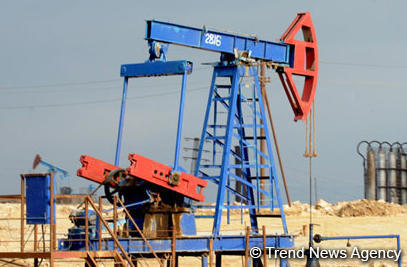 By Narmina Mammadova
Azerbaijan presented data on its daily oil production in December 2018 to the OPEC Joint Technical Committee within the framework of the Vienna Agreement, Trend reports citing the Azerbaijani Energy Ministry.
Last month daily oil production in Azerbaijan amounted to 790,000 barrels, of which 721,000 fell to oil, and 69,000 to condensate.
Every day 617,000 barrels of oil, 69,000 barrels of condensate and 13,400 barrels of oil products were exported.
In January 2018, Azerbaijan produced an average of 814,600 barrels per day, in February – 806,000 barrels, in March – 794,000 barrels, in April – 785,700 barrels, in May – 801,000 barrels , in June - 792,000 barrels, in July 773,000 barrels, in August – 774,000 barrels, in September – 796,000 barrels, in October – 783,000 barrels, in November – 801,000 barrels.
OPEC Joint Technical Committee was created on January 22, 2017 to monitor the implementation of countries' commitment to cut oil production.
The Organization of the Petroleum Exporting Countries (OPEC) is a permanent, intergovernmental Organization, created at the Baghdad Conference on September 10–14, 1960, by Iran, Iraq, Kuwait, Saudi Arabia and Venezuela. It was created by oil-producing states to control production quotas. Currently, the Organization has a total of 15 Member Countries. OPEC includes Algeria, Angola, Venezuela, Gabon, Iran, Iraq, Congo, Kuwait, Qatar, Libya, the United Arab Emirates, Nigeria, Saudi Arabia, Equatorial Guinea and Ecuador. Members of the organization control about two thirds of world oil reserves, they account for up to 45 percent of all world production and half of exports.
OPEC and non-OPEC producers reached an agreement in December 2016 to curtail oil output jointly and ease a global glut after more than two years of low prices. OPEC agreed to slash the output by 1.2 million barrels per day from January 1, 2019.
Non-OPEC oil producers such as Azerbaijan, Bahrain, Brunei, Equatorial Guinea, Kazakhstan, Malaysia, Mexico, Oman, Russia, Sudan, and South Sudan agreed to reduce output by 558,000 barrels per day starting from January 1, 2017.
OPEC and its partners decided to extend its production cuts till the end of 2018 in Vienna on November 30, as the oil cartel and its allies step up their attempt to end a three-year supply glut that has savaged crude prices and the global energy industry.
The 5th OPEC and non-OPEC Ministerial Meeting was held in Vienna, Austria, on December 7, 2018.
The meeting participants decided to adjust the overall production by 1.2 million barrels per day, effective as of January 2019 for an initial period of six months. The contributions from OPEC and the voluntary contributions from non-OPEC participating countries of the 'Declaration of Cooperation' will correspond to 0.8 million barrels per day (2.5 percent), and 0.4 million barrels per day (2 percent), respectively.
The next meeting of OPEC and non-OPEC format will be held in Vienna in April 2019 to revise the agreement.
Saudi Arabia is currently the world's largest oil exporter.
Russia is the second largest crude oil producer in the world after the United States. Its oil production level of 11.4 million barrels per day will be reduced by about 2 percent, to 228,000 barrels.
Some countries have been applied a compromise within the framework of the agreement on reduction of oil production. Iran has been compromised as well as Libya and Venezuela, considering U.S. sanctions.
---
Follow us on Twitter @AzerNewsAz
Related News