6 December 2018 18:20 (UTC+04:00)
1 427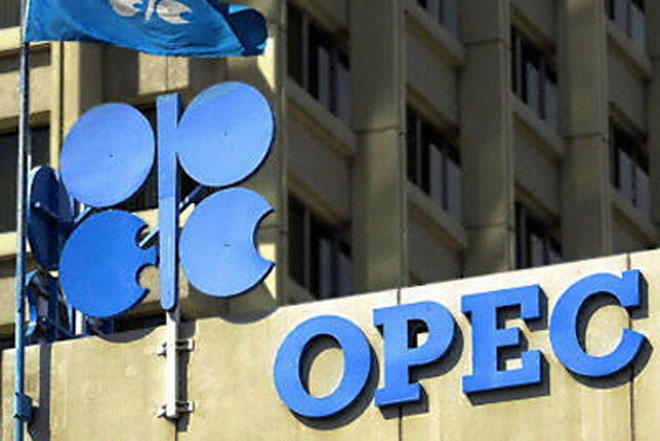 By Trend
OPEC needs to change June 2018 strategy in crude output, Suhail Mohamed Al Mazrouei, UAE Minister of Energy and Industry, and President of the OPEC Conference, said.
He made the remarks during the 175th Meeting of the OPEC Conference in Vienna, Austria on December 6, 2018, Trend reports.
OPEC ministers announced a deal in June 2018 that will increase oil supplies from the producer group, which has been capping output in order to balance the market and boost prices for the last 18 months.
"We have witnessed positive progress on removing the inventory overhang, the market has seen further rebalancing and there has been excellent collaboration between OPEC and non-OPEC participants in the 'Declaration of Cooperation'. However, I think we can all recognize that our work is not done," Al Mazrouei noted.
He pointed out that today, it is vital to thoroughly examine the potential gap between supply and demand in 2019.

"As we look forward to 2019, we see a new set of challenges. This includes the general consensus that prospects point to higher supply growth than expected global requirements and there are signs of a potential slowdown in demand. Today, it is vital that we thoroughly examine the potential gap between supply and demand in 2019, and how this might impact inventory levels and the extremely 'hard won' market balance we have achieved over the past two years," noted the UAE energy minister.
He went on to add that there is a need to focus joint efforts on maintaining the balanced market achieved in 2018; sustaining the stability; and, ensuring that there is a firm foundation to allow the industry to make the necessary investments to continue to meet expected future oil demand.

"This will require us to change the strategy we took in June 2018. Thus, it is essential that we look to move ahead with a more permanent relationship with our non-OPEC producers, in order to continuously adapt to ongoing market dynamics, and to help meet the challenges, as well as opportunities, that we will face in the months and years ahead," added Al Mazrouei.
OPEC and non-OPEC producers reached an agreement in December 2016 to curtail oil output jointly and ease a global glut after more than two years of low prices. OPEC agreed to slash the output by 1.2 million barrels per day from January 1.
Non-OPEC oil producers such as Azerbaijan, Bahrain, Brunei, Equatorial Guinea, Kazakhstan, Malaysia, Mexico, Oman, Russia, Sudan, and South Sudan agreed to reduce output by 558,000 barrels per day starting from January 1, 2017.
OPEC and its partners decided to extend its production cuts till the end of 2018 in Vienna on November 30, as the oil cartel and its allies step up their attempt to end a three-year supply glut that has savaged crude prices and the global energy industry.
---
Follow us on Twitter @AzerNewsAz
Related News