Baku Metro mulling over important novelty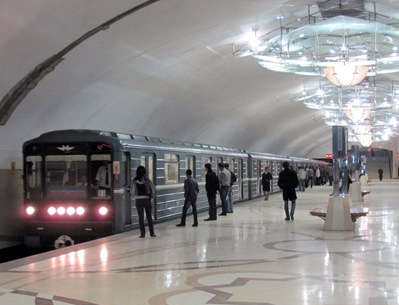 By Nigar Orujova
Baku Metro may have a life-saving novelty in the near future.
Creation of health centers at the stations of the Baku Metro is under discussion, Spokesman of the company Nasimi Pashayev said.
He said, there are several of these centers at some metro stations, but they are intended for workers of underground, in particular machinists. However, there are no medical stations for passengers now.
Metro workers themselves offer first aid to passengers in emergency cases, Pashayev added.
"To date, there was no facility in Baku Metro to offer medical aid to passengers in need of medical assistance. If additional medical care is needed then emergency medical services are offered. Ambulances are on duty near almost all the metro stations," he said.
"We are talking about human life. So Baku Metro must have its own medical staff for emergency medical assistance to passengers. The number of subway stations and employees must also increase. So, we are in desperate need of such health centers," he stressed.
The need for the medical centers in the underground usually increases in the warm seasons, especially in hot summer months.
Deputy Chief Doctor at the Baku emergency medical aid station Ogtay Shahmaliyev said there are on average 4-5 calls for medical help from Baku Metro per day, and 100-120 calls per months.
These calls are connected with worsening of health of passengers both on station platforms, and at the exits from the underground.
"Sometimes the calls are related to fainting, renal colic, malaise and various diseases," he said.
Shahmaliyev noted that the fatal cases in the metro are quite rare. A fatal case in the subway, when a passenger died before the arrival of the ambulance was recorded on September 22, he added.
The subway system is developing rapidly in the Azerbaijani capital. With a length of thirty-five kilometers, Baku Metro has two lines and 23 stations.
It is planned to get enlarged to 119 km with five lines and up to 76 stations by 2030; eight stations and two train depots are currently under construction.
The new stations of Baku Metro will be built on the most modern technologies. They would be equipped with modern platforms, lobbies, escalators as well as new signaling and control systems.