19 June 2019 17:17 (UTC+04:00)
3 890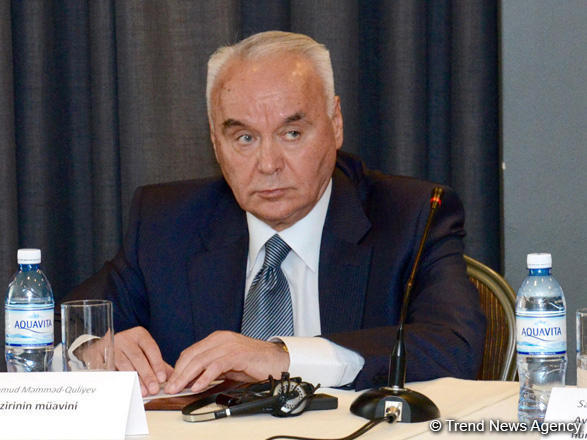 By Leman Mammadova
The geostrategic importance of Azerbaijan determines its role in the modern international politics.
Azerbaijan seeks to unify Europe with Central Asia, said Mahmud Mammadguliyev, Deputy Foreign Minister of Azerbaijan, at a high-level conference on cooperation between the Black Sea Economic Cooperation Organization (BSEC) and the EU.
In his speech, Mammadguliyev noted that Azerbaijan, being a member of the BSEC, developing partnership with the EU, attaches great importance to cooperation in this space.
Referring to Azerbaijan's chairmanship in the BSEC, the deputy minister stressed that Baku is striving to unify Europe and Central Asia by encouraging regional unity, as well as cooperation in transport, information technology and energy.
Mammadguliyev particularly noted that the aggression of Armenia against Azerbaijan prevents Yerevan from taking full advantage of the region's rich potential.
He also said that the development of cooperation programs with the EU is a priority for the BSEC countries, and also spoke about the importance of coordination activities in this direction.
In this regard, Mammadguliyev noted that he will try to bring peace, stability and development to the region by increasing Azerbaijan's efforts towards both the BSEC and the EU.
At the same time, the deputy minister stressed the importance of the continuation of cooperation between the BSEC and the EU in a more structured format based on the specific programs and action plans.
It should be noted that EU Council adopted a document on June 17, 2019, with recommendations on the participation of the EU in the Black Sea regional cooperation. It expresses concern about threats to EU security in the Black Sea region and emphasizes that international law, including independence, sovereignty and respect for territorial integrity, forms the fundamental basis of the EU's approach to regional cooperation in the Black Sea region.
The Black Sea Economic Cooperation Organization is an intergovernmental organization uniting 12 countries of the Black Sea and southern Balkans. The organization was founded in 1992. The headquarters is located in Istanbul.
Azerbaijan assumed the BSEC chairmanship at the 38th meeting of the Organization's Council of Foreign Ministers, which took place on June 27, 2018. Azerbaijan chaired BSEC until December 2018. After Azerbaijan, the chairmanship was transferred to Bulgaria.
During Azerbaijan's chairmanship, four ministerial meetings were held, including a meeting at the level of foreign ministers, 21 thematic meetings of the working group and an ad hoc working group.
The action plans of a number of working groups (tourism, ICT, energy) were adopted. More than 10 meetings of the bodies of the organization, workshops and other events were held. Moreover, the corresponding assessment documents were prepared to improve the efficiency of the organization.
Moreover, during Azerbaijan's chairmanship, discussions were underway to complete the work on the projects "Regional Trade Facilitation Strategy for the BSEC Region" and "BSEC Single Window Cooperation".
---
Leman Mammadova is AzerNews' staff journalist, follow her on Twitter: @leman_888
Follow us on Twitter @AzerNewsAz
Category News