22 November 2017 17:12 (UTC+04:00)
1 940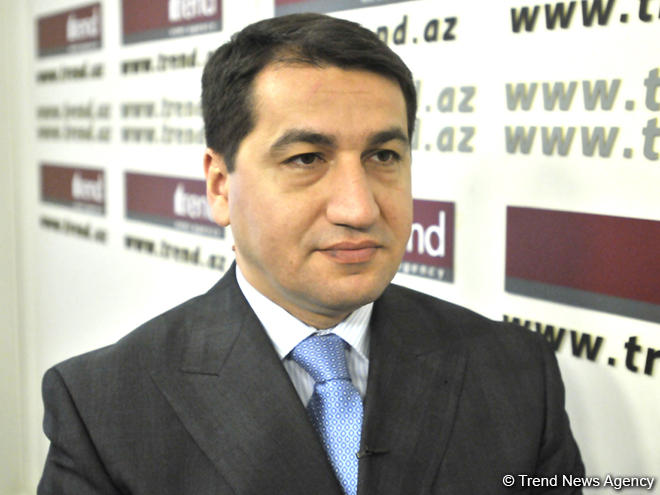 By Rashid Shirinov
It is obvious that substantive and intensive negotiations conducted by the OSCE Minsk Group co-chairs following the meeting of the presidents of Azerbaijan and Armenia held in Geneva October 16 seriously worry the Armenian side, Azerbaijani Foreign Ministry's Spokesman Hikmat Hajiyev told Trend on November 22.
He was commenting on an appeal of Armenian Foreign Minister Edward Nalbandyan at a joint press conference with his Russian counterpart Sergey Lavrov. The Armenian FM said in Yerevan that implementation of the UN Security Council resolutions is allegedly not on the agenda of Karabakh talks.
"Nalbandyan, who always imitates negotiations and distracts attention from the main task by secondary issues, again resorts to lies and various excuses," Hajiyev noted.
The spokesman said that the Armenian FM speaks about the mediation mission of the OSCE Minsk Group co-chairs, but at the same time he continues the 'ostrich policy' with respect to the UN Security Council resolutions that form the basis of the co-chairs' mandate.
"Under the document of March 23, 1995 on the mandate of the OSCE Minsk Group co-chairs, in their activities the co-chairs should base on the relevant resolutions of the UN Security Council, decisions of OSCE Budapest Summit, and Helsinki Final Act. Non- recognition of the requirements of the relevant UN Security Council resolutions means ignoring the mandate of the Minsk Group co-chairs," Hajiyev said.
The four resolutions (822, 853, 874, 884), adopted in 1993, condemned the occupation of Azerbaijani territories, stressed the unacceptability of forcible appropriation of territory, confirmed the inviolability of the territorial integrity, sovereignty and borders of Azerbaijan and demanded the immediate, complete and unconditional withdrawal of Armenian occupation forces from Azerbaijani lands. Unfortunately, these demands are still on paper, as Armenia refuses to comply with the UN Security Council resolutions.
"The UN Security Council resolutions are termless, they are relevant and are on the agenda before they are implemented. No state is authorized to distort or belittle the role of the UN Security Council resolutions," Hajiyev stressed.
The spokesman added that Azerbaijan acts with real facts, which are based on the UN Security Council resolutions, norms and principles of international law.
"Regardless of what Armenia wants, the international community supports the fair position of Azerbaijan which is based on international law. Negotiations for an early settlement of the conflict and ensuring sustainable peace in the region are held together with the OSCE Minsk Group co-chairs on this basis," Hajiyev said.
He added that the Armenian side must understand the reality and put an end to its 'ostrich policy.'
"Everyone should know that Azerbaijan will fully ensure sovereignty and territorial integrity within the internationally recognized borders," Hajiyev noted.
By not implementing the resolutions of the UN Security Council, Armenia demonstrates its political ignorance and further strengthens its status of an occupier-country. The nonsensical statement by the country's foreign minister is another evidence of this ignorance as well as of mendacity of Armenia's authorities.
--
Rashid Shirinov is AzerNews' staff journalist, follow him on Twitter: @RashidShirinov
Follow us on Twitter @AzerNewsAz
Related News