14 August 2014 13:20 (UTC+04:00)
626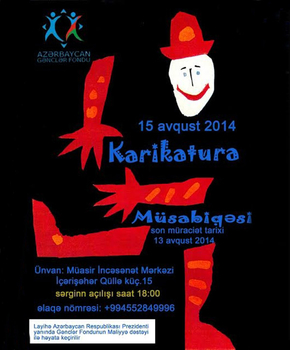 By Amina Nazarli
The final exhibition of "Caricature competition" project will be held in the Center of Modern Art in Baku on August 15.
The project was the leading project in the fifth grant competition, announced by Youth Foundation under the President of Azerbaijan. The project is led by Roza Aliyeva.
About 30 artists took part at the three-day exhibition. Each artist is allowed to put on display only three works.

During the first stage of the exhibition, young cartoonists created their works in the open air. The second stage of the exhibition includes exposition of young artists' collections.
The main goal of the competition is to develop fine and caricature art in Azerbaijan, identify talented young artists and strengthen ties between young artists and professionals.

Caricature is the main or in another word the only form of graphic satire. In fact, the very name of the genre comes from Latin word "carrus" which means "exaggerate". It succinctly highlights both the advantages and disadvantages of a particular person or society.
In Azerbaijan, caricature genre in press was born in 19th century in satiric magazines.

This new genre quickly became very popular among population as it showed the gaps and ugliness of the society in a comic form.

The development of this genre in Azerbaijan is associated with "Molla Nasraddin" magazine headed by Jalil Mammadguluzade (chief editor) first released on April 7, 1906.

In 2006, Azerbaijan Cartoonists Union (ACU) was established. The union is a member of FECO Federation of Cartoonist Organizations.