16 May 2018 13:57 (UTC+04:00)
1 462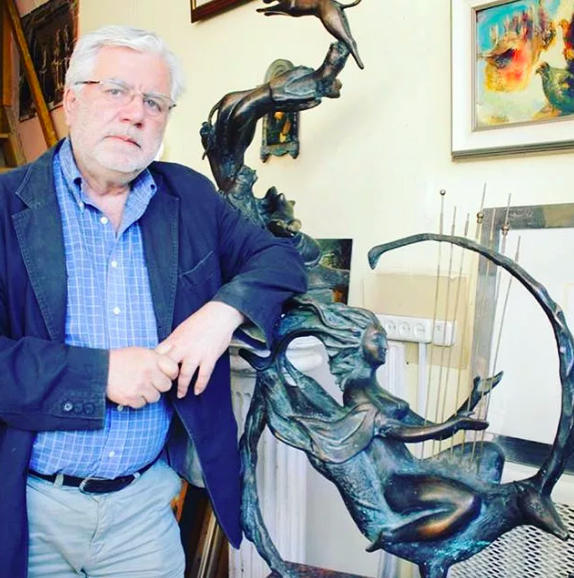 By Laman Ismayilova
Talented Azerbaijanis live and work in many countries of the world, glorifying their native land. One of them is 64-year-old Kamil Kamal, who since 1983 lives and works in Minsk, weaving national threads into the public art fabric of Belarus. Here he is called a genius, maestro of painting, sculpture, stained glass, painting and graphics.
Kamil Kamal has long been a part of Belarusian culture, one of its bright colors, and its real pride.
More than thirty of his monumental works adorn the cities of Belarus. His paintings have become design elements of stories written by famous writers. His exhibition has been presented with great success in many countries, as well as the building of the European Parliament in Brussels. He is the author of several books, repeatedly awarded national and international prizes for creative achievements in the field of fine and monumental and decorative art.
Kamil Kamal's name has long been included in the encyclopedia: the 80-volume, published in Germany (Artists of All Times and Peoples), the 18-volume Belarusian Encyclopaedia, the Encyclopaedia of the Union of Artists of Belarus, the Encyclopedia of Culture of Belarus. Artists, journalists, writers, poets wrote about the Kamil's work. Back in 2000, director Sergey Lukyanchikov made a documentary film about Kamil Kamal "The Traveling Peacock," which entered the top 100 films in the history of the Montreal Film Festival.
When the brush master was called from Baku, he was pleasantly surprised and kindly agreed to talk about his life and work, shared his thoughts, told about the desire to hold a solo exhibition in the Azerbaijani capital.
Trend Life presents interview with a great artist Kamil Kamal.
Kamil Kamal (Kamal Hamza oglu Hajiyev) was born in Marneuli, a compact place of residence of Azerbaijanis in Georgia, on February 5, 1954. At the age of seven, he moved with his family to Baku. From early childhood, a bright talent predetermined his further choice. He graduated with honors from the Baku Art College named after Azim Azimzadeh (1977-1981).
He also studied at the Faculty of Painting at Ilya Repin St. Petersburg State Academic Institute for Painting, Sculpture and Architecture (1981-1983), the Faculty of Easel painting, then monumental painting at the Belarusian Theater and Art Institute (1984-1990, now - the Belarusian State Academy of Arts). He was nominated for a scholarship of the USSR Artists' Union, and in 1991 was admitted to the Belarusian Union of Artists. In Minsk, he married a Belarusian, and his son Ruslan was born there. From 1997 to 2004 he taught at the Belarusian State Academy of Arts, and since 2011, until recently, he taught drawing and painting at the Belarusian State Pedagogical Institute named after Maxim Tanka.
The art of Kamil Kamal fascinates with its diversity. His bright individuality, imbued with the heritage of the Azerbaijani people, was enriched by the Belarusian tradition, giving creativity a special uniqueness. This allowed the brush master to express himself in many ways.
He expressed himself very interesting in graphics: etchings and lithographs surprise with virtuosity of performance, ease and obedience of lines. His paintings are a combination of a realistic and unearthly, a consonance of colors and at the same time their resistance. Sculptures strike you with originality and unusual philosophy of the creator.
"Artist's creativity lies in his own world, which he created and lives in it, very complex and interesting. If you find yourself in art, it doesn't matter where you live, in a cave or city.
I'm interested in drawing my own world. I believe that there are no canons in art. Everyone sings his song. The art is boundless and immense ... One who is sincere to his consciousness in art will stay there, and whoever is insincere will disappear, evaporate, as if he were not. I know one thing that I love life, my family and friends, and all of humanity. This is the secret and purpose of my work," said Kamil Kamal.
Each of the Master's works is a search for the unity of the East and the West, the desire to unite worlds, philosophies. Through his work he shows an inseparable connection with his native land - Georgia, Azerbaijan and Belarus, which are dear to his heart, thoughts and aspirations. That is why the memory and talent of the Belarusian Azerbaijani with Georgian roots are peculiarly embodied in colors.
"I have lived in Belarus for 35 years and believe that this is my homeland. I was born and lived in Georgia - there is also my homeland. My parents are Azerbaijanis, I lived and studied in Baku - and Azerbaijan is my homeland. I cannot imagine that it was otherwise. You voluntarily linked your life with this land, its people. Be grateful to them, repay good for hospitality, never forget, and bless the chance to become who you are. I think every person, wherever he lives and works, always carries in his soul the unquenchable fire and heat of his native land. The real world has so united the colors of different peoples and countries that today it is not so important what kind of nationality you are. For the viewer, it's more important that you are a true artist. Do your job honestly and sincerely. The main thing is that through art, people can read my soul," artist said.
Therefore, his works perfectly combine a colorful imagery based on Eastern culture.
Almost all of Kamil Kamal's paintings are iconic. For him, trees are the symbols of life, birds as symbols of eternity, animals resembling lions, tigers, elephants, even domestic goats or generally fantastic creatures, angels, stones, flowers are the signs.
This is the islands of eternity, forgotten pieces of paradise, children's dreams and tales ... There is a mysterious unique aesthetics, where the realistic and unearthly are united.
"I want my creative attitude and art to prolong and strengthen the good in people. It seems to me that people do not know how to enjoy life. Ordinary life. Rejoice in money, clothes, cars, and not life itself. Our life is short, but at the same time it is long to realize the predestined, seen by the heart and soul. My search is the main thing, and every day should bring something new, something for which it is worth living and creating. Fantasy is the main engine of artistic discoveries and incarnations. I'm just a passer-by, a wandering person who is interested in discussing the world, its beauties and colors, lines and dots," he said.
Kamil Kamal believes that the closest and dearest to his heart paintings should always remain with him, and reluctantly part with his works. He cares, the hands into which they will pass. There were times when he simply refused to sell his work.
"Diogenes is a real person in my perception. It was a man for whom money had no price. Like him, I'm not looking for material benefits, I'm looking around for people ..."
Recently an exhibition of painting, graphics and sculpture "The Garden of the Dervish" was presented in Minsk, which reveals a deep philosophy of being. The author shows his world of the East with dervishes and towers of the ancient cities of the Caucasus, Asia, the world of oriental beauties peering intently into the cornflower of Belarus ... The artist expressed the emotional state of the person - a hermit who is alone with himself, with his thoughts and experiences. Kamil Kamal's art is also sacred, it reflects something highly spiritual and mystical, personifies fragments of complex and unpredictable life. It allows you to look inside, helps to study the depths of the soul and, undoubtedly, affects feelings. The artist wants to present his exposition of art works, including paintings, graphics and sculpture titled "Games on the Edge of the Earth" created over the last 30 years in Baku. Only in 1995 his personal exhibition was held in Azerbaijani capital.
"Games on the Edge of the Earth" are reflections on the transience of life and the eternity of being, fantasies that resemble colorful children's dreams and philosophy which is complex and multifaceted, like life itself.
Kamil Kamal has a big dream...
"Once I was in Shusha, and this fertile land has always remained in my memory - it's the heart of Azerbaijan, the cradle of musical culture and literary creativity. Every day I think about the liberation of Karabakh, and people to return to their homes and live in peace and create as before …"
---
Laman Ismayilova is AzerNews' staff journalist, follow her on Twitter: @Lam_Ismayilova
Follow us on Twitter @AzerNewsAz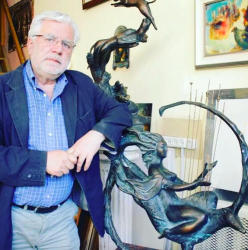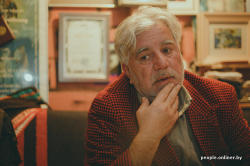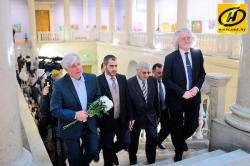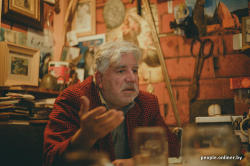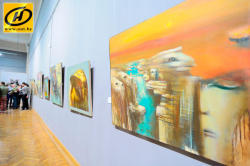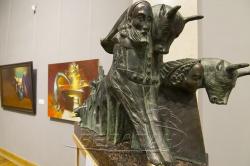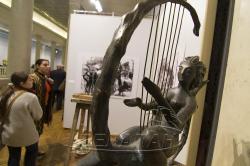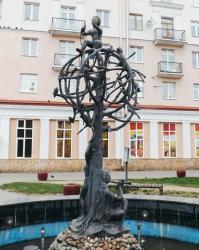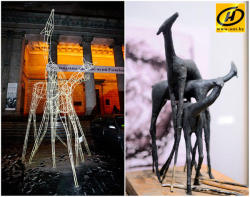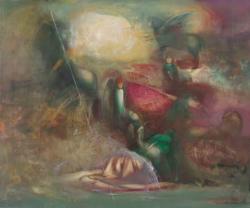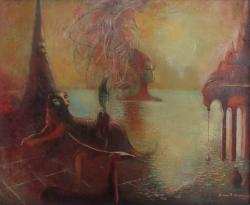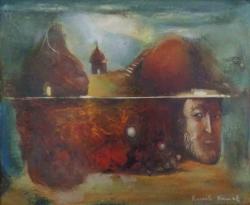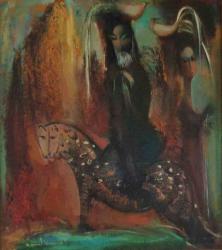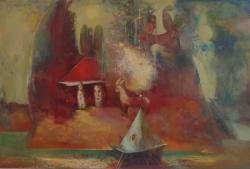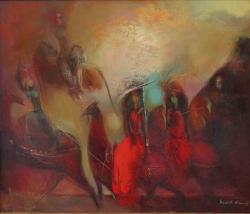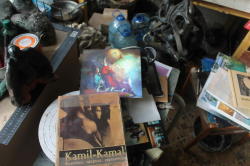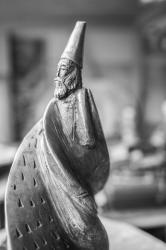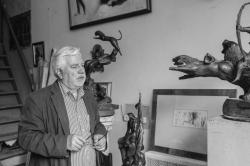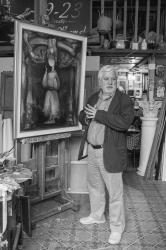 Related News