2 May 2014 11:17 (UTC+04:00)
1 027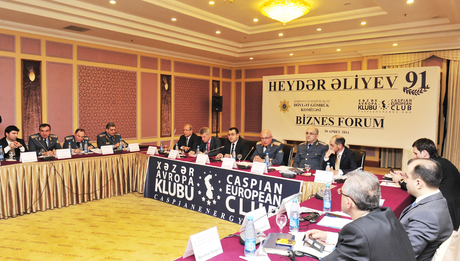 By Aynur Jafarova
The Caspian European Club (CEIBC) is contributing to the development of entrepreneurship and the operation of the government agencies in Azerbaijan.
The remarks were made by Chairman of Azerbaijan's State Customs Committee Aydin Aliyev at a joint business forum on April 30.
Organized by the State Customs Committee and the CEIBC in Baku and chaired by Aliyev, the joint business forum was dedicated to the discussion of all the development aspects of Azerbaijan's customs sector.
Addressing the session, Aliyev spoke about the considerable changes made in Azerbaijan's customs system since January 1, 2012.
Azerbaijan currently ranks 39th out of 138 countries on the transparency of the customs service operations.
Aliyev also noted in June 2013 a representative from Azerbaijan was elected the Deputy Chairman of the World Customs Organization, which brings 81 countries together.
The CEIBC was established in June 2002 in association with the Caspian Energy International Media Group and under the support of the largest oil and gas companies working in the Caspian-Black Sea region.
Azerbaijani President Ilham Aliyev is the CEIBC's Chairman.
Since its establishment, the CEIBC has promoted directing the oil sector revenues to the development of the non-oil sector. The CEIBC is operating in 50 countries worldwide, carrying out active work to support dialogue between government agencies and the private sector.
The Chairman of the State Customs Committee was granted the CEIBC Honorary Membership Certificate.
Aliyev also handed certificates to the member companies of the CEIBC, particularly AGA Group of Companies, SINAM, Aral Group, Atropatena, Mustafa Tayat, Lindab Buildings, Murphy Shipping&Commercial Services Azerbaijan JV, and Asia Sky Express & OCS.
The business forum was attended by officials of the State Customs Committee, heads of companies, and the ambassadors of the Caspian-Black Sea region and the EU countries accredited to Azerbaijan.
Later, Aliyev told journalists that the customs clearance term for import-export operations will be reduced three-fold in Azerbaijan.
"The state committee has prepared a package of proposals for the government to amend certain regulations," he said. "This work is conducted in accordance with the presidential decree on additional measures for the development of entrepreneurship. And one of the most important innovations is a proposal to reduce the duration of customs clearance. As it is known, it is 72 hours, and we've proposed bringing it down to 24 hours."
This will help support the agricultural producers, as their products are perishable, he added.
"Another change will be more global," Aliyev said. "The matter is included in a package of amendments to the presidential decree on the liberalization of foreign trade since 1997. These proposals will eliminate several small problems in the customs declaration and take care of various aspects which have to be coordinated."
Related News