24 February 2018 10:00 (UTC+04:00)
3 086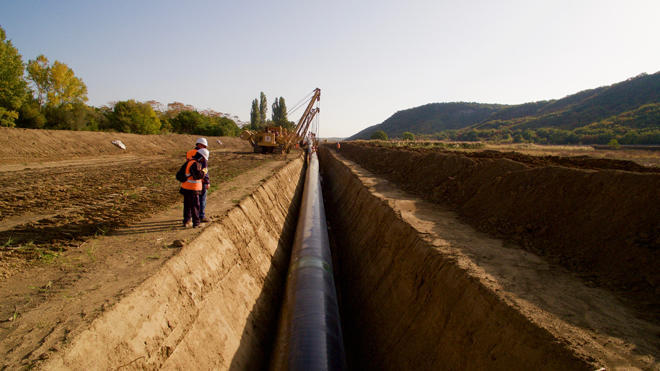 By Trend:
It is expected to complete 80 percent of the Trans Adriatic Pipeline (TAP) project by late 2018, Trend learned from TAP AG consortium, engaged in construction of the pipeline.
"At this point of time TAP is progressing well on schedule, having completed 2/3 of the project so far. TAP will continue to progress construction works this year. TAP expects to have completed 80 of the project by the end of this year," TAP Head of Communications Lisa Givert told Trend.
Regarding the possibility for TAP's awarding new contracts or holding new tenders, she noted that TAP's procurement process is complete and all strategic contracts have been awarded in early 2016.
Touching upon the decision of the European Investment Bank (EIB) to allocate 1.5 billion euros for the project, Givert said that this is in line with TAP's project financing strategy.
"The funds will be used to finance the ongoing project works as it progresses towards commercial and operational start up in 2020," she added.
TAP is a part of the Southern Gas Corridor which is one of the priority energy projects for the EU.
TAP project envisages transportation of gas from the Stage 2 of development of Azerbaijan's Shah Deniz gas and condensate field to the EU countries.

The pipeline will be connected to the Trans-Anatolian Pipeline (TANAP) on the Turkish-Greek border, run through Greece, Albania and the Adriatic Sea, before coming ashore in Italy's south.

TAP's shareholders are: BP (20 percent), State Oil Company of Azerbaijan (20 percent), Snam (20 percent), Fluxys (19 percent), Enagas (16 percent) and Axpo (5 percent).
TAP will be 878 kilometers in length (Greece 550 km, Albania 215 km, Adriatic Sea 105 km, and Italy 8 km). Its highest point will be 1,800 meters in Albania's mountains, while its lowest point will be 820 meters beneath the sea.
---
Follow us on Twitter @AzerNewsAz
Category News