11 January 2018 14:23 (UTC+04:00)
1 796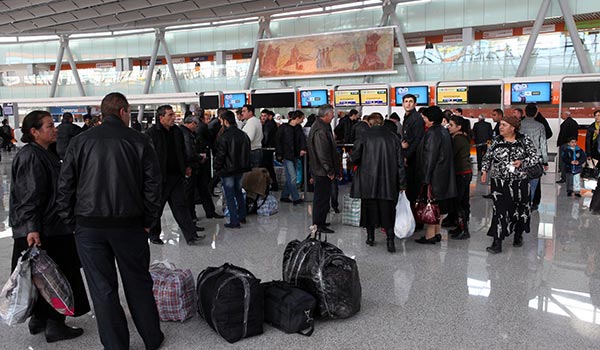 By Rashid Shirinov
The hard economic situation and low social conditions in Armenia have long been the reason for the population's poor living standards. For dozens of years people were leaving the country because of this, and this trend continued in 2017 as well.
Armenian demographer Artak Markosyan has recently told local media that as many as 13,500 people emigrated from Armenia during the first nine months of 2017.
He said that in 2016 alone, 22,000 Armenian citizens were granted citizenship of Russia, and 19,000 people received a residence permit. In addition, many Armenians leave for European countries and the U.S. The data for 2017 has not yet been summarized, but there is definitely no downward trend in the exodus of Armenia's population.
Markosyan noted that the number of people leaving the country is huge, and if there is emigration in the country, this means that the country has a problem and people no longer see their future in this country.
"Since the 1990s, Armenian citizens have been leaving abroad for work, but in recent years the number of people leaving for permanent residence has increased in the total migration balance," he said, noting that since 2007 this balance is red in Armenia.
Among the three South Caucasian countries, Armenia has the highest emigration rate, which indicates that during their life in this country, people face many problems and eventually have no other choice but to leave abroad.
"If this pace continues, more serious consequences will show up in the next 5-6 years. This is why we need a comprehensive approach," says the Armenian demographer.
Every responsible government would long ago started serious actions to stop the crisis in the country's demographics, but the Armenian authorities turn a blind eye to the problem. During one of his speeches in 2017, the Armenian president said that the government plans to bring the country's population to four million, that is, to increase it by more than one million, by 2040. However, given that the exodus rate is not decreasing yet, these words remain idle talking.
---
Rashid Shirinov is AzerNews' staff journalist, follow him on Twitter: @RashidShirinov
Follow us on Twitter @AzerNewsAz
Related News