18 August 2017 15:22 (UTC+04:00)
1 709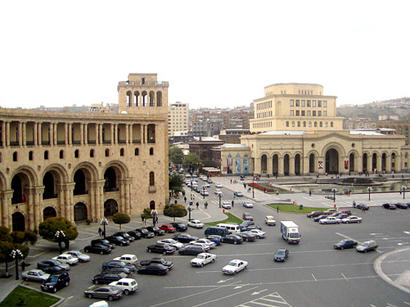 By Rashid Shirinov
The construction industry is undoubtedly one of the hardest-hit by the economic recession in Armenia. Over the past three years, the worker salary in the country's construction industry has been trending downwards, while today it is difficult to see any construction site here.
The construction sector is almost 'dead' in Armenia – no new buildings are constructed, and even old buildings are not being restored.
Few days ago, Armenia marked the Day of the Builders, and Prime Minister Karen Karapetyan participated in the event dedicated to this day. Karapetyan tried to cheer up Armenians saying that construction allegedly remains one of the most important and key sectors of the Armenian economy.
"A state where construction is developing is experiencing progress," he said, but forgot to add that the construction sector in Armenia is stagnating, and hence the whole economy of the country too.
The Armenian Prime Minister also made empty promises regarding the agricultural sector, which is also in doleful situation.
Experts warn that almost all sectors of the Armenian economy are in poor condition; no industry of the country is able to cover requirements of the domestic market. Economists note that the investment program of the Armenian government, as well as the concept aimed at rehabilitation of the country's economy, have failed.
Although Armenians pinned high hopes on new Karapetyan, his 'unwise' development program failed to improve the investment climate in the country. The situation in the Armenian economy has not improved, but instead got worse.
During his first six months in the office, the Prime Minister voiced initiatives and made proposals for overcoming the economic crisis. However, then Karapetyan realized that he alone is unable to fix the situation in Armenia, and lately joined the ranks of the officials, who are famous for making declaratory speeches.
---
Rashid Shirinov is AzerNews' staff journalist, follow him on Twitter: @RashidShirinov
Follow us on Twitter @AzerNewsAz
Related News