17 August 2017 15:33 (UTC+04:00)
1 966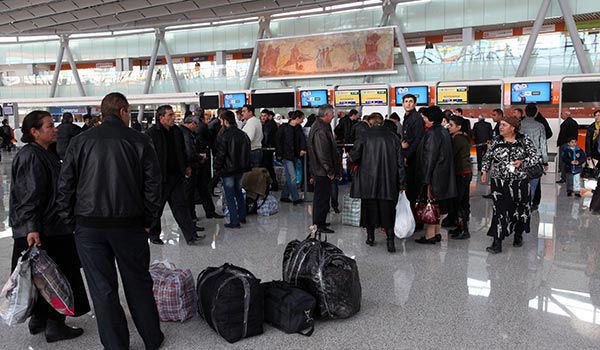 By Rashid Shirinov
Population losses in Armenia have accelerated in recent years, affecting every corner of the country and continuing the largest outmigration in more than 10 years.
Population loss has turned into the norm in this poor South Caucasus country, despite President Serzh Sargsyan's empty promises to increase the country's population to 4 million by 2040.
The official data says that the number of the country's citizens continues to decline steadily year by year. Today, the population of Armenia is even less than 3 million – 2,979,900 people, according to the National Statistical Service of the country.
It is noteworthy that mainly working-age men emigrate from the country in a bid to find a job that they cannot find in Armenia due to the terrible economic situation. As time goes on, many of those men decide not to return to home, which results in lower birth rate in Armenia.
The National Statistical Service has recently reported that the number of births decreased by 6.6 percent in the first six months of 2017. Meanwhile, the number of deaths for the same period increased by 2.1 percent.
The country is also losing its young population. The data of the National Statistical Service show that about 35,000 schoolchildren left Armenia over the past six years. As a result, many classes and sometimes school are closed in the country.
The most important demographic indicator for a country is the natural population growth. This indicator for Armenia is only 497 people. This is about three times less than the figure of last year – 1,381 people. Meanwhile, in 2013 the natural increase was 2,061 persons.
Moreover, the marriage rate also declines in Armenia. Only 3,544 marriages were registered in the first quarter of 2017, while the figure was 4,744 four years ago.
Every responsible government would long ago started actions to stop the crisis in the country's demographics, but the Armenian authorities turn a blind eye. Yerevan ignores all the disturbing facts about the country's population, and continues to rob the people who have not left the country yet.
---
Rashid Shirinov is AzerNews' staff journalist, follow him on Twitter: @RashidShirinov
Follow us on Twitter @AzerNewsAz
Related News