25 February 2019 18:17 (UTC+04:00)
2 295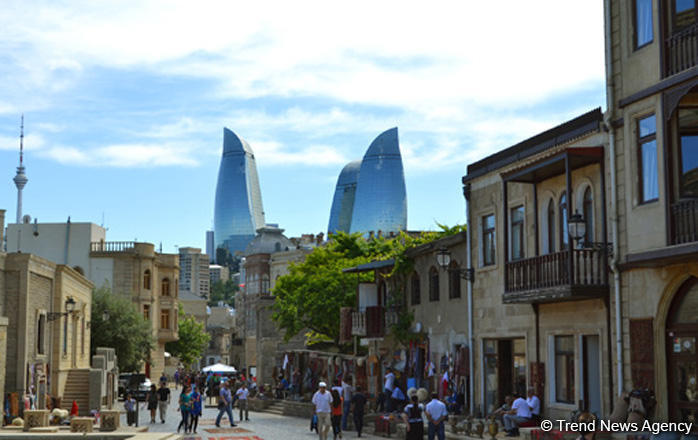 By Leman Mammadova
Mesmerizing nature of Azerbaijan, delicious cuisine, hospitality of the people, capital's most modern sky-scrapers and at the same time old places saturated with the history attract more tourists with each coming year.
The beautiful nature of Azerbaijan, hospitality of its people, the country's capital with its super modern and ancient buildings draws the attention of all tourists visiting this South Caucasian country.
The number of tourists who arrived in Azerbaijan from Egypt, Pakistan, Turkmenistan, India, China, Georgia and South Korea increased and the number of tourists from the Gulf countries decreased in January 2019, Trend reports referring to the Azerbaijani State Statistics Committee on February 25.
In January 2019, 191,600 foreigners and stateless people from 143 countries visited Azerbaijan (a 2.9 percent increase compared to January 2018).
Thus, 29.4 percent accounted for the Russians, 29.1 percent – Georgian citizens, 11.2 percent – Turkish citizens, 5.4 percent – Iranian citizens, 4.5 percent – UAE citizens, 1.7 percent – Ukrainian citizens, 1.3 percent – Iraqi citizens, 17.3 percent - citizens of other countries, 0.1 percent - stateless people.
Among those who arrived in Azerbaijan in January 2019 the number of tourists from Egypt increased by 4.5 times, tourists from Pakistan – by twofold, tourists from Turkmenistan – by 1.7 times, tourists from India – by 1.4 times, tourists from China – by 26.5 percent, tourists from Georgia – by 21.9 percent, tourists from South Korea – by 15.2 percent.
The number of tourists from the Gulf countries decreased by 13.3 percent and reached 28,500 people in January 2019 compared to January 2018.
In January 2019, the number of tourists from the EU countries increased by 0.9 percent and reached 5,800 people, the number of tourists from the CIS countries - decreased by 0.2 percent and reached 67,200 people.
Meanwhile, 63.8 percent of tourists arrived by trains or vehicles, 35.4 percent - by planes, 0.8 percent - by ships.
In 2018, 2,849,600 tourists from 196 countries arrived in Azerbaijan, showing a 5.7 percent increase compared to 2017, according to the State Statistics Committee of Azerbaijan.
Azerbaijan received most tourists in July (11.6 percent), in August (11.3 percent), in March (9.7 percent) and in June (9.5 percent). On the other hand, tourists visited Azerbaijan less in February (5.8 percent), in January (6.5 percent) and in May (7.3 percent).
In recent years, the creation of a diversified tourism infrastructure in Azerbaijan has increased the interest of foreign tourists to the country. There are many opportunities for tourism in our country, including rural, health, environmental, cultural, social, commercial, sport and etc.
Simplification of visa regime also plays a major role in the development of tourism in Azerbaijan. Currently, citizens of a number of countries get visas right at the Azerbaijani airports, while other tourists can visit the country by getting online tourist visas.
The mesmerizing mix of East and West, the possibility to have a rest on the Caspian Sea shore and enjoy fresh air and delicious meals have always been attracting tourists to Azerbaijan. Many of them get so much fascinated with the country and its capital Baku that they come back to visit Azerbaijan again after a while.
---
Follow us on Twitter @AzerNewsAz
Related News